OUR FLAGSHIP TRAIL-RIDING HOLIDAY, THE TRANS-WALES TRAIL, OFFERS UNFORGETTABLE WORLD-CLASS HORSE-RIDING ACROSS THE WILD AND BEAUTIFUL MOUNTAINS OF WALES.
Riders visit from all over the world to tick this epic trail ride off their bucket list! We invented this trail 40 years ago, and only a handful of people know the way! It is definitely not one to be missed.
During this holiday spent riding right across Wales on our beautiful Welsh Section Ds uniquely bred for the job, you will experience some of the most historic, beautiful and undiscovered countryside in Britain.
Please note, this is a challenge for competent and experienced riders only. We cross from the Black Mountains to the Irish sea, over several mountain ranges, covering great distances, mostly off-road, and riders must be fit, have good stamina, and be comfortable riding at speed. If you're wondering if it is for you, then please don't hesitate to get in touch – we love talking about our trails!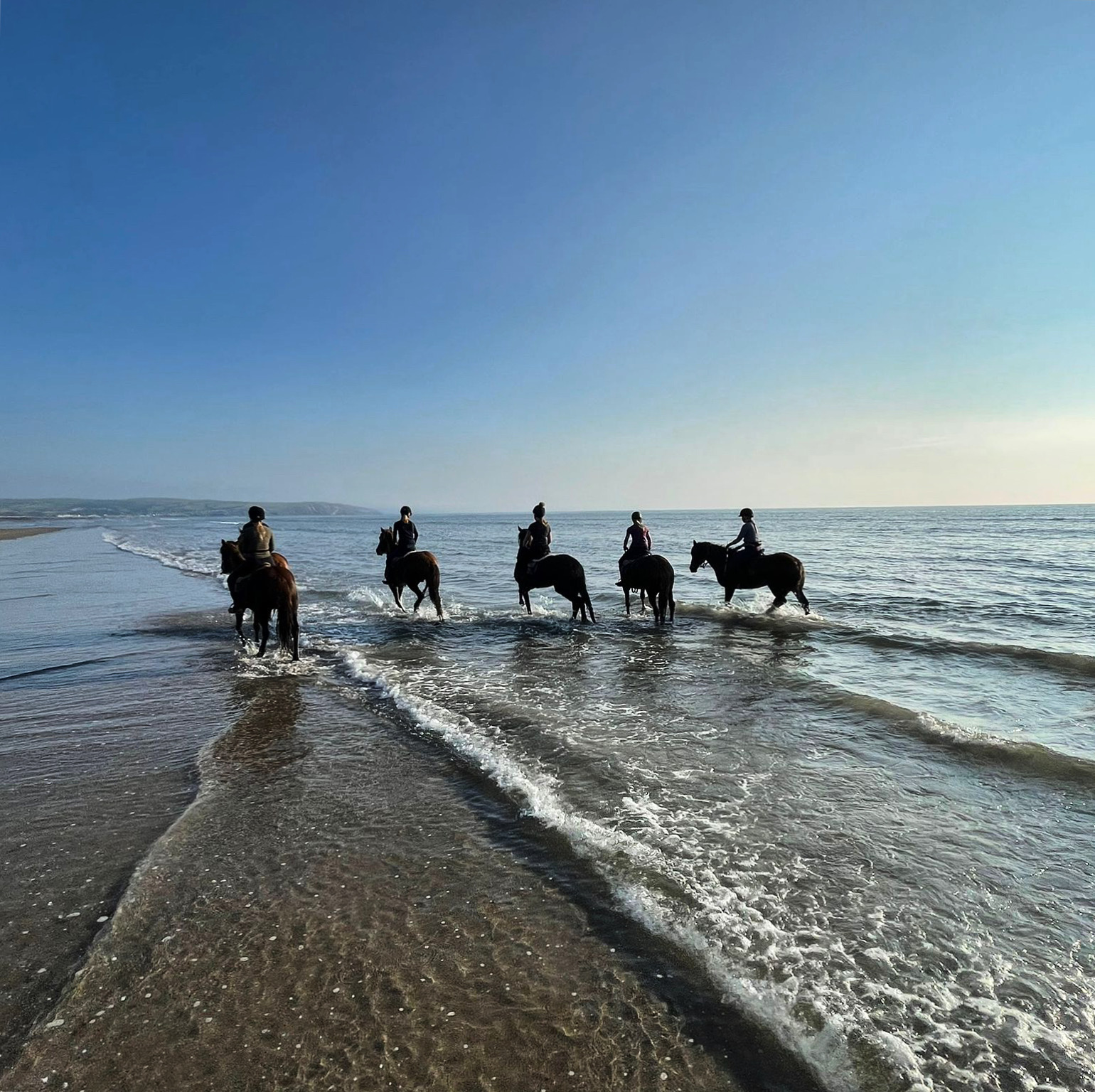 The route passes through four mountain ranges – The Black Mountains, Mynydd Epynt, the Elan Valley and over Plynlimon before a final gallop on the beach near Aberystwyth.
The route uses mostly forgotten bridle-ways, some open moorland crossings and several specially-negociated trails over private land. Luckily the guides know their way, and are there to make sure you get the most out of your trail ride.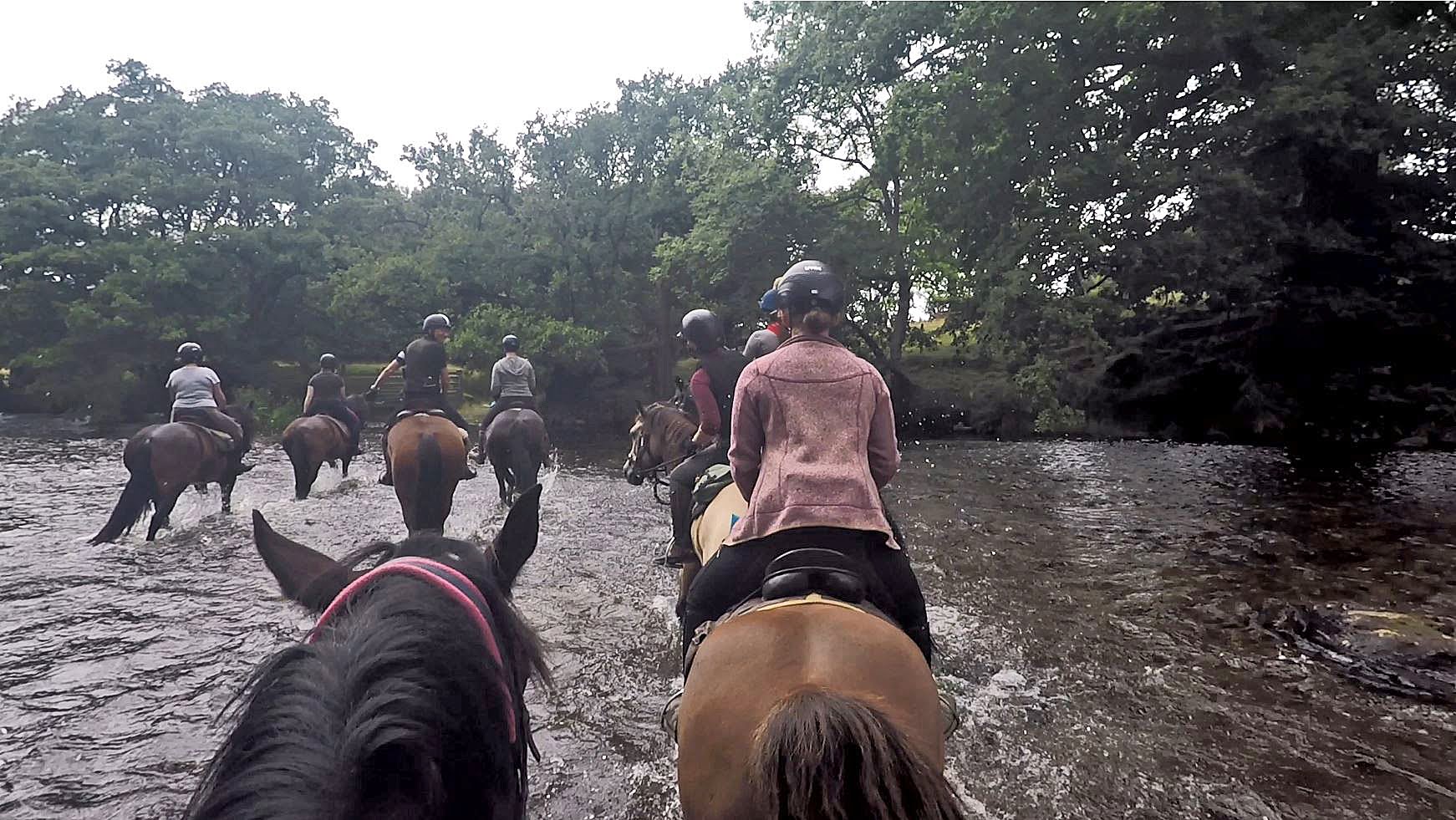 Arrival: Riders arrive in the evening, gather in the lounge over welcome drinks, and enjoy getting to know one another over a home-cooked dinner.
Day 1: We start with a local trail of 12-15 miles, so that riders can get a feel for our horses and riding style.
We stop for lunch in a local pub, and afterwards head up onto the mountain where the hill-riding really begins.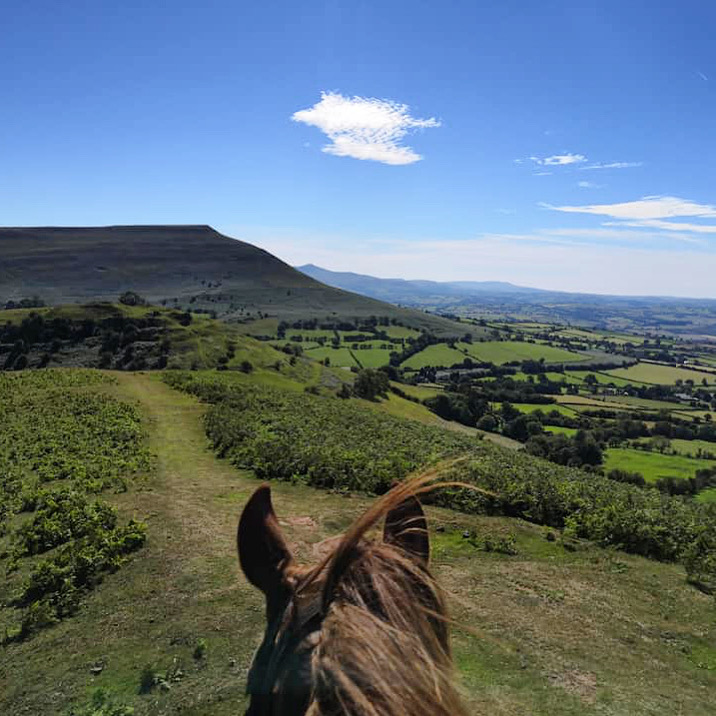 We head back to Blaenau for a well-earned dinner. Guests are free to visit the local pub (1 mile away, bring/ borrow a torch for the way home!) if they wish.
Day 2: Time to set off on the trail! The morning is busy making sure we have everything we need for the adventure ahead. Once on horseback, country lanes lead us up to Llandefalle Common, with plenty of gently undulating wide grassy tracks to enjoy long and fast canters.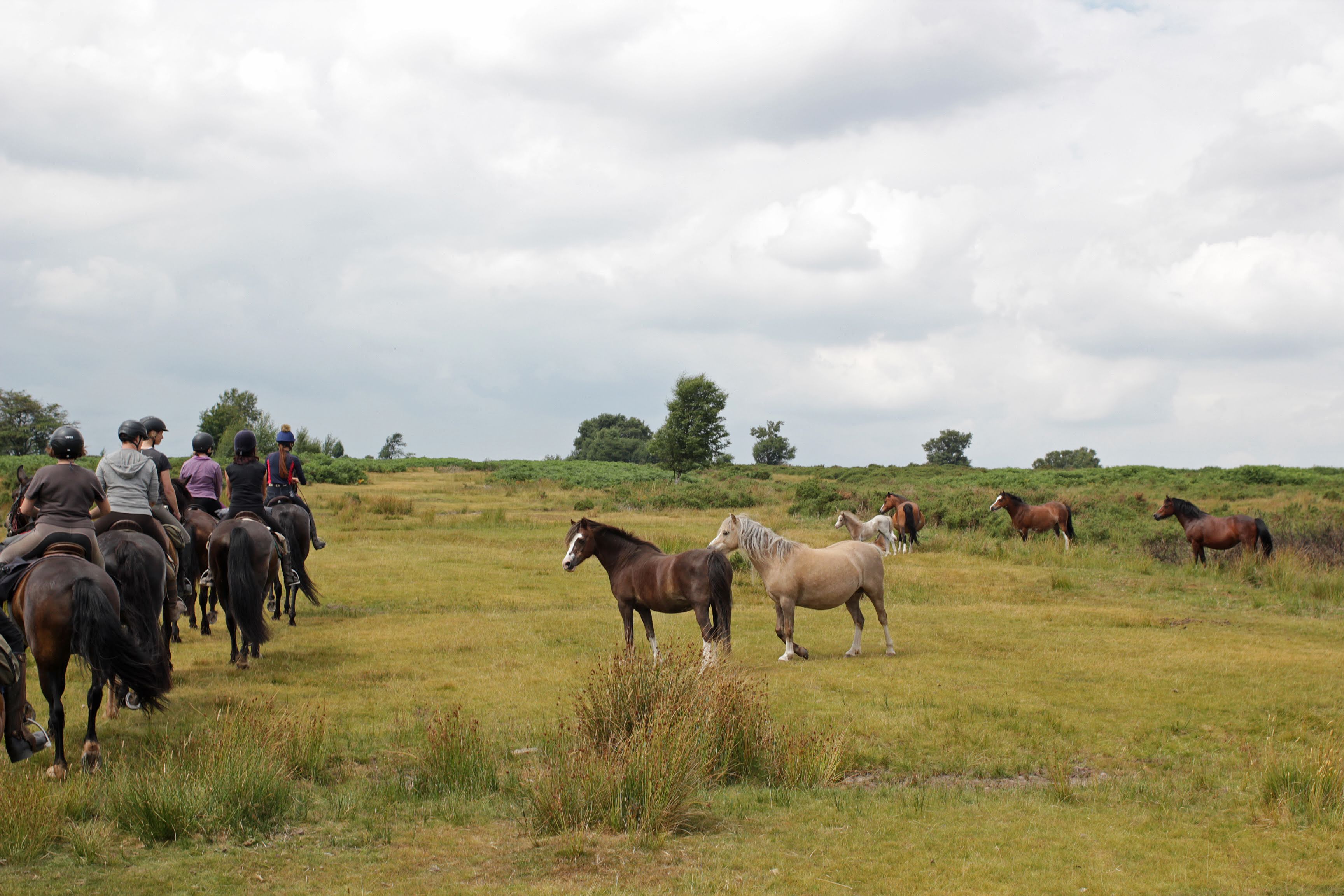 We picnic in beautiful woodland before pressing on over the common, taking in the incredible Pant Y Llyn lake high above Builth where wild ponies often congregate to drink.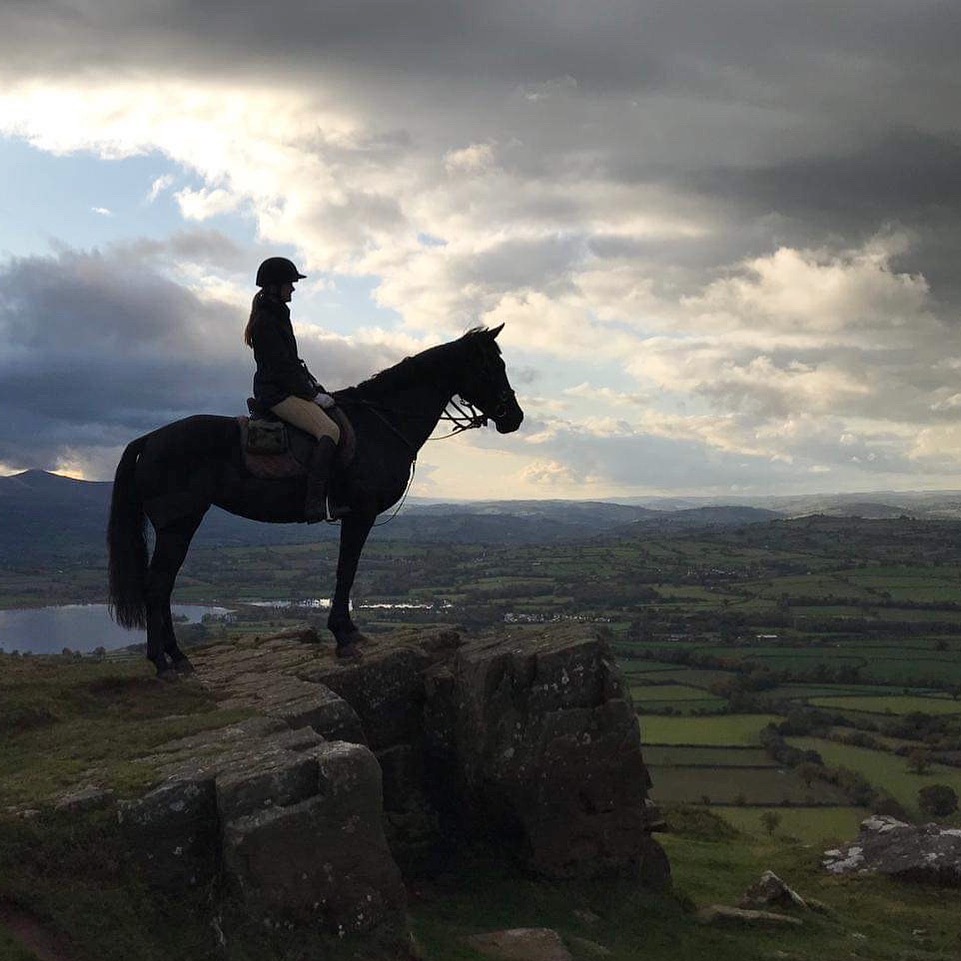 Day 3: Today we track the route of the beautiful River Wye upstream, before reaching Llanafan Common, with more wild ponies and amazing views!
We drop down for a picnic lunch beside the beautiful river Cwm Cwerfru.
The afternoon finds us negotiating the ancient drovers trails across Llanwrthl common, part of the Cambrian Mountains, earning our first glimpse of Elan Valley. Red kites fly above us and the views stretch for miles.
We reach Rhyader for the night where we stay in a very comfortable hotel.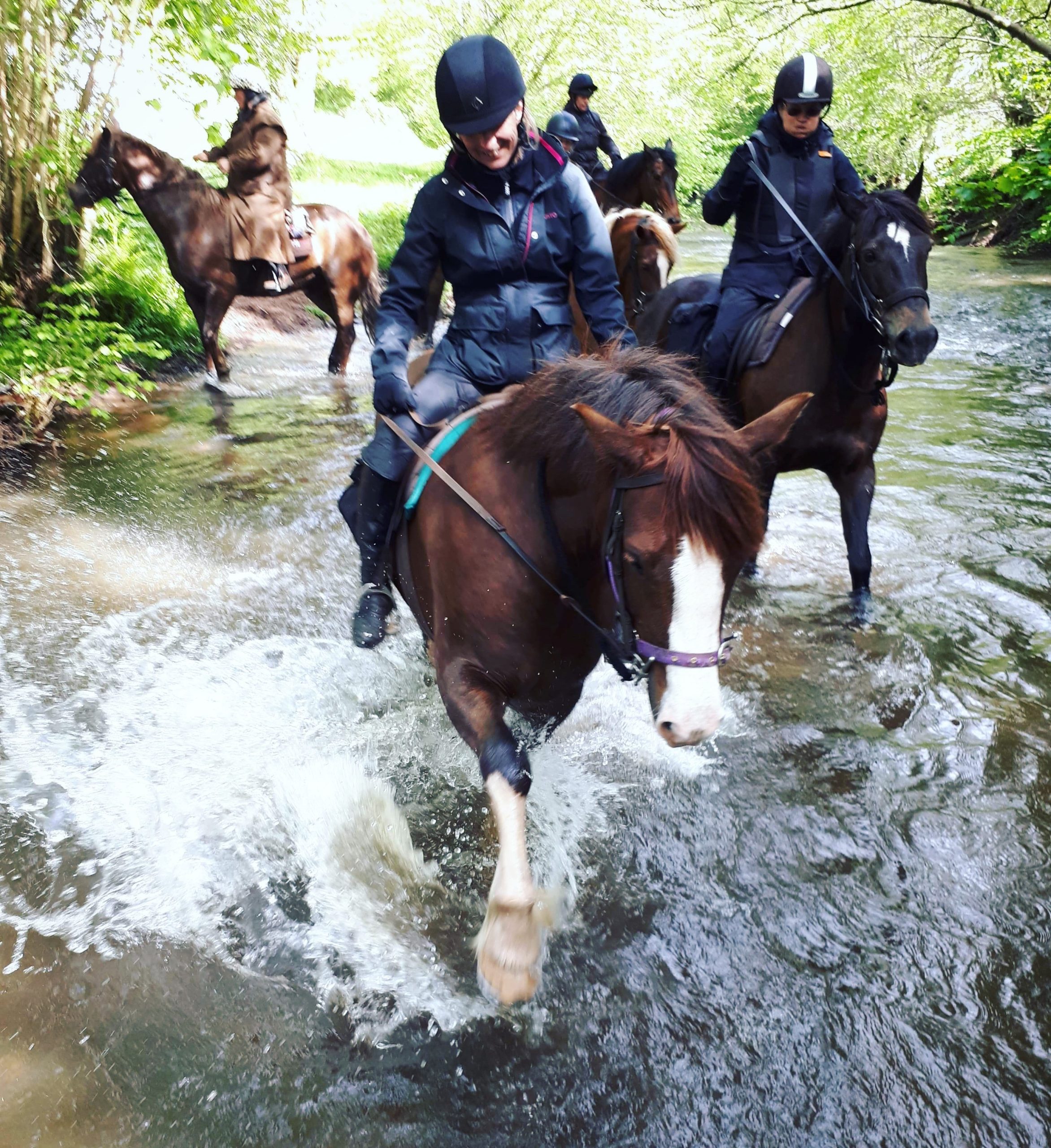 Day 4: We head straight up onto the hill, a steep climb but while horses rest at the top, we are rewarded with unforgettable views down the stunning Elan Valley with its string of reservoirs and the Pen Cerrig Dam.
We follow grassy tracks down the hill to our picnic spot at the bottom of the valley. 
After lunch, we track the Elan Valley Mountain road before turning into the Tar Ennig Forest for some long adrenaline-inducing gallops to finish off the day!
We stay in the small hamlet of Llangurig, in the historic Bluebell Inn, which offers fairly basic comfort compared to the rest of the accommodation but a very warm welcome and fantastic food!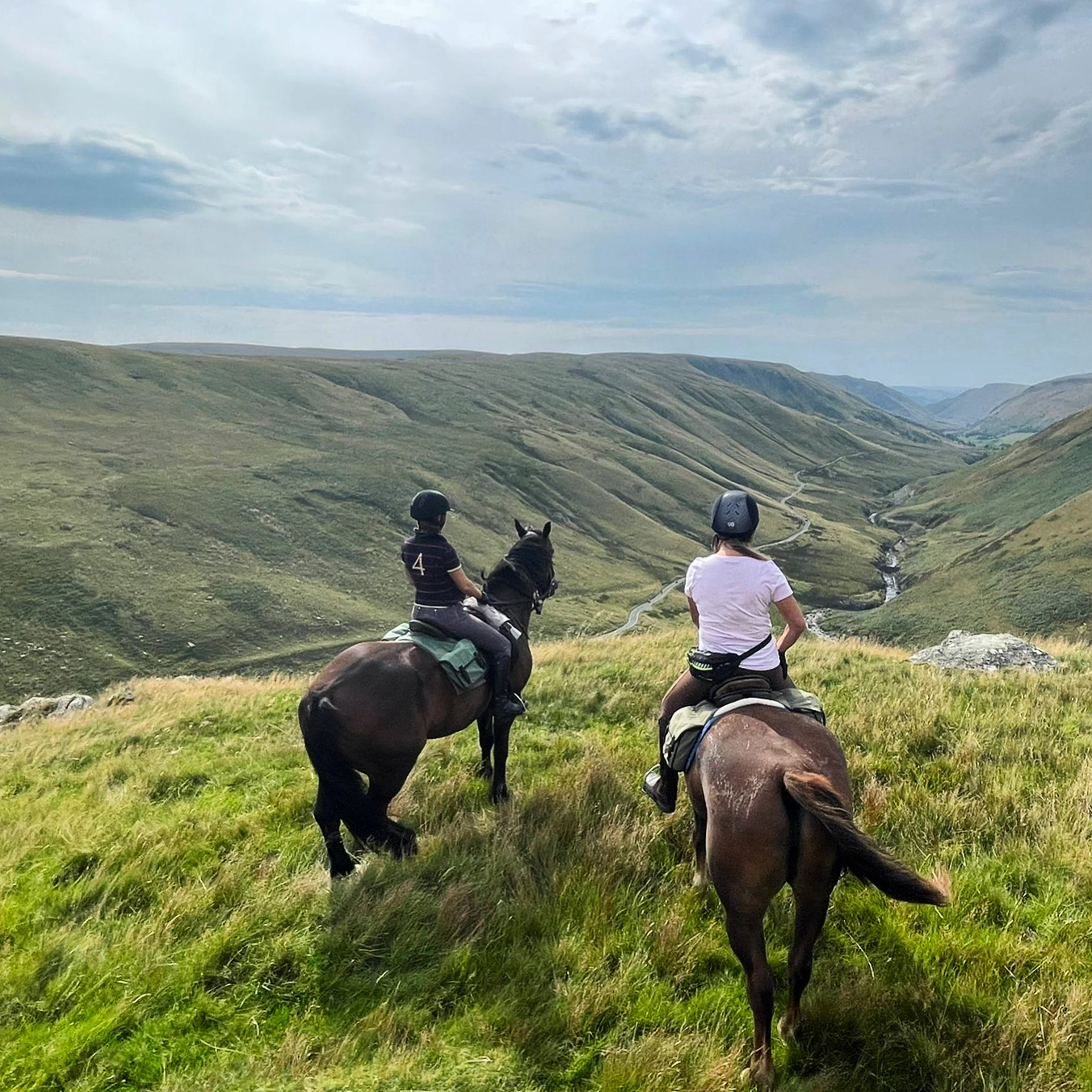 The final day, Day 5, is literally a marathon day – 26 miles to the sea, crossing mountains with no trail to follow!
This is challenging terrain with deep bogs and sheer drops! It's not for the faint-hearted but by this time your bond with your horse is unshakeable, and the sense of achievement at the end is just incredible! 
We drop down for lunch in the middle of nowhere, far from civilisation, and by now you will really understand the extent of the wilderness of Wales. After lunch we enjoy a less challenging but beautiful afternoon, with two more hills to hop over, and our first guaranteed view of the sea as Aberdovey Estuary comes into view. 
We stop for tea at a lovely cafe, then trot down the road, around the headland of Ynyslas, and hit the beach! 
After a refreshing paddle in the waves, horses and riders enjoy galloping along  the firm sand – you won't want to stop!
But eventually you and the horses will be glad of a lift home, stopping en-route for dinner at the Blue Bell Inn. Tea and cake waits for you back at Blaenau, and it will feel like coming home!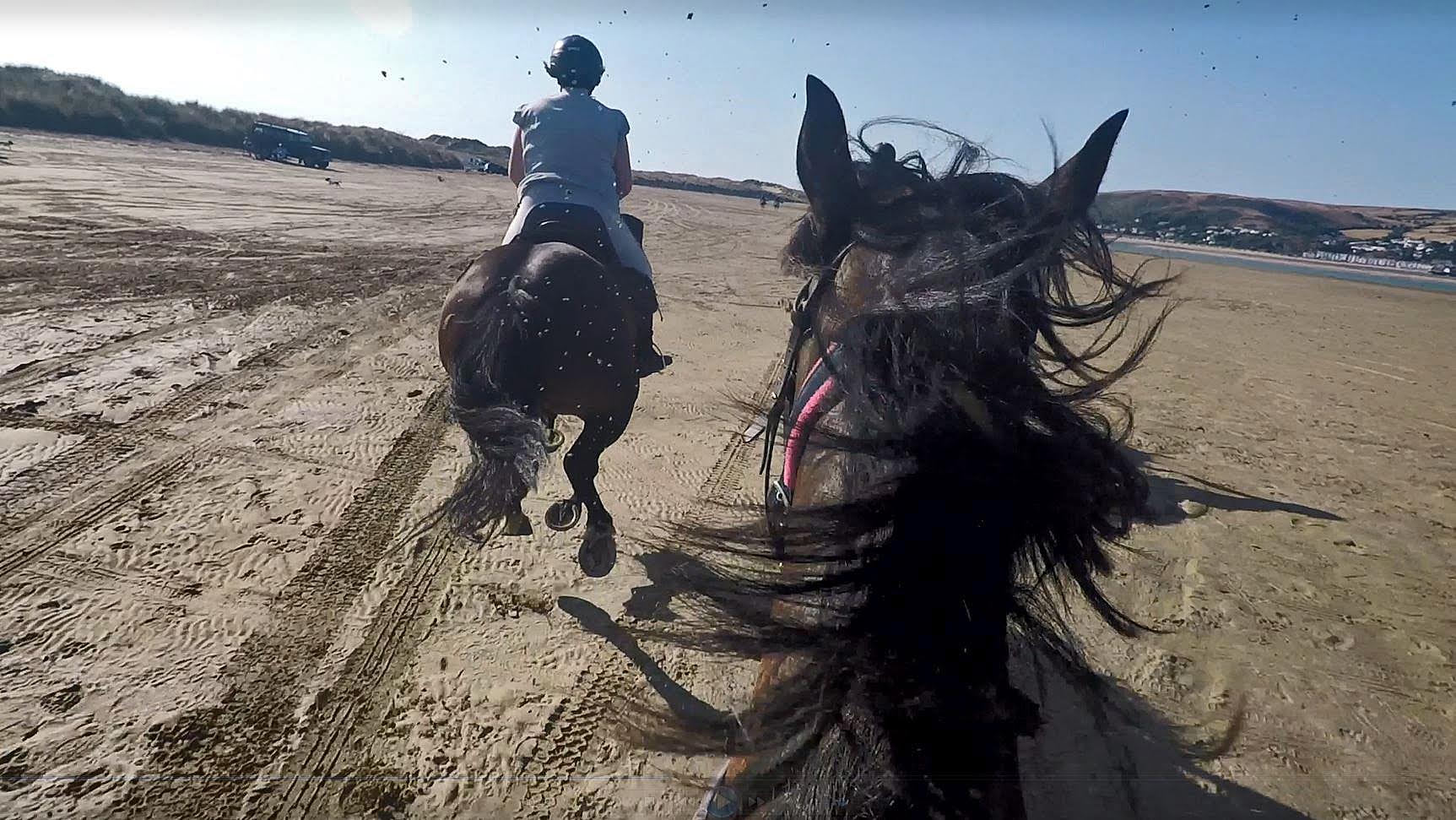 Final morning: Relax and reminisce with your fellow riders over a huge home-cooked Welsh breakfast, before saying goodbye and heading home.
---
Price: £1975 fully-inclusive.
What's included: six nights accommodation, all meals, five full days trail riding, and all ride servicing – your luggage is driven on to each overnight stop meaning you don't have to ride with bulky saddlebags.
What's not included: drinks at dinner.
Follow us on Facebook and Instagram to see plenty of pics and videos from this trail!
ABILITY:

Challenging intermediate and experienced riders
Strict weight limit of 13 stone/ 82 kilos
COST:
£1975 per person fully inclusive
2023 DATES
Trails start Saturday evening, finish Friday morning.
May 6-12
May 20-26
June 3-9
June 17-22
July 1-7
July 15-21
July 29 – Aug 4
Aug 19-25
Sept 2-8
Sept 16-22
Sept 30 – Oct 6

= suits all abilities, must be competent and confident at canter.

= will suit intermediate and experienced riders.

= challenging intermediate and experienced riders.