ALL OF OUR HORSE RIDING HOLIDAYS AND WEEKENDS INCLUDE TIME AT THE BLAENAU, A BEAUTIFUL TRADITIONAL WELSH LONGHOUSE OVER 300 YEARS OLD.

WELCOME TO THE BLAENAU!
We love welcoming riding holiday guests to our traditional Welsh Longhouse, The Blaenau. Built from stone from a quarry just upstream, at the best guess it has probably been a home to people for nearly 400 years, and everyone agrees there is something special about this long low house built on the rock next to the stream. We've kept the traditional character while renovating the guest annexe to the highest standard.
We have four rooms in the guest annexe, each with their own en-suite shower room, which can be made up as twins or as super-king doubles using the zip& link mattresses. The rooms have been sympathetically renovated from the old barns that were attached to the main house (the far end of the house) and have been recently awarded 4 stars by Visit Wales.
If you would like to guarantee a single room, then we may charge a small supplement.
There's plenty of hot water, Welsh blankets, fluffy pillows, 100% cotton linen and goosedown duvets to make sure you'll sleep like a baby. The house is heated with a wood biomass boiler, so in the winter you'll be cosy and warm.
A comfortable lounge provides space for guests to relax and socialise in the evening, and both breakfast and dinner are taken in our garden room overlooking the stream at the back of the house.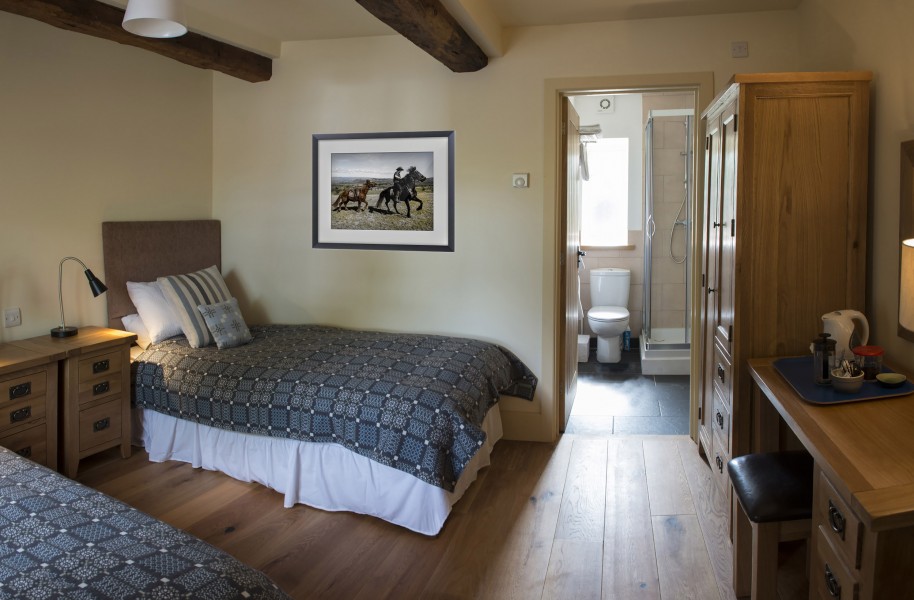 MEALS
Over the years we have earned a reputation for some of the finest food to be found anywhere on a horse riding holiday. Luckily you will have the chance to ride off the extra calories!
All meals are fully inclusive in your holiday, except on a Tuesday night during BME weeks when the kitchen staff escape for the night and we ask guests to eat at a nearby pub. We happily cater for vegans and vegetarians  – just let us know when you book.
It is really important to us that we use locally and ethically sourced produce wherever possible. Look out for our very own Black Mountain lamb, and the rest of our meat is from Bryan George, a nationally-acclaimed butcher in Talgarth (he got a write-up in the Guardian too!) with an abattoir attached, this meat has never known packaging! Our eggs are from our own chickens or Phil up the road if ours can't keep up with demand (we get through an awful lot of eggs!)
You are welcome to bring along your own wine or beer to enjoy with your evening meal, and there is a Co-op store in Talgarth which is open until 10pm which sells a decent range.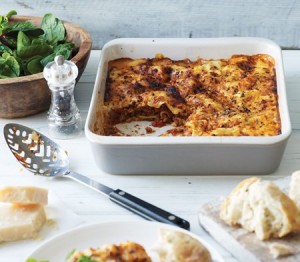 NIGHTLIFE
Okay, so there isn't much! After a long day riding, most guests are content with a glass of wine or two by the wood-burner in the lounge before (and after!) dinner and a debrief on the ride, but it has been known for groups to head off through the fields down to the pub for a pre-dinner aperitif – we are always happy to pick you up! Around the farm there are many lovely walks, and beautiful waterfalls very nearby. We also have a DVD player with a range of films, plus Netflix, so you are very welcome to relax with a film, and we have plenty of books you are welcome to borrow.
HORSE RIDING GWYLIAU A LLETY PENWYTHNOS YN FFERM CWMFFOREST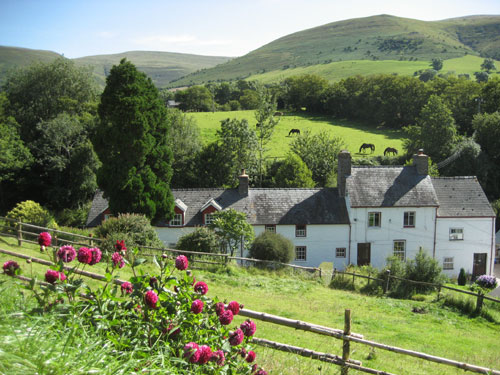 Mae pob un o'n gwyliau marchogaeth ac ar benwythnosau yn cynnwys amser yn Cwmfforest, ein ffermdy cyfforddus ac yn gartref i'r teulu Turner am dros 40 mlynedd. Ar y Llwybr Traws Cymru (TWT), Llwybr y Parc Cenedlaethol (NPT) a'r Gelli Triongl, yr ydym yn gwario rhai nosweithiau i ffwrdd o'r fferm yn aros yn gwestai bach a gwestai ar y ffordd, tra bod y ceffylau yn cael eu rhoi ar ffermydd cyfagos. Mae'r rhan fwyaf o'n ystafelloedd yn efeilliaid gydag ystafell ymolchi a rennir, ond mae gennym rai ystafelloedd ymolchi en-suite a rhai ystafelloedd sengl.
Dim ychwanegion sengl: os ydych yn archebu eich pen eich hun, byddwn naill ai'n dyrannu i chi i ystafell ar eich pen eich hun os nad ydym yn llawn, neu ofyn i chi i rannu gyda rhywun o'r un rhyw. Os hoffech chi i warantu ystafell sengl, yna efallai y byddwn yn codi atodiad bach.