WE LIKE TO PRIDE OURSELVES ON STANDING OUT FROM THE CROWD.
Riders often leave here telling us they've never experienced riding like it on any other horse riding holiday.
If your experience of trekking up until now has been to get your horse in line and stay there nose-to-tail, you'll be pleasantly surprised at how different our approach is. Our horses are forward-going, well schooled and sociable.
At Transwales Horseback Trails, riders are encouraged to build a relationship with their horse, and we'll help you catch, groom and tack up at the beginning of the day.
Our horses are beautiful, fine, fit Welsh cobs who will surprise you with their sureness of foot and superb balance. Compact, intelligent and strong, they are ideally suited to the hills and mountains that surround us. The terrain is varied and includes open moor-land, thick forests, picturesque country lanes and narrow mountain ridges.
During your holiday here, there is plenty of opportunity for fast canters and gallops, and even the chance to jump logs and ditches – all optional of course!
KEEPING IT IN THE FAMILY SINCE 1970!
Paul's father Mike started Transwales Trails, just after Paul was born. We are still very much a family business with everyone lending a hand where needed. We offer a friendly greeting, log fires, comfortable beds, legendary helpings of the best home-cooked food, and a trustworthy home-bred Welsh cob to carry you over the hills.
The Transwales team consists of Paul and Emily, Paul's parents Mike and Maria, and our yard manager Kirsty, as well as our other guides Rowena, Tresta, Beth and Marie.
We're all here to make sure you enjoy an unforgettable experience.
PAUL TURNER
Paul practically grew up on a horse, was leading rides from an early age, and eventually took over the reins from his dad, Michael, several years ago. He guides all the Trans Wales Trails (our flagship ride across Wales) throughout the summer (he's the only one that knows the route!) often on a youngster learning the ropes. When not trail riding you may find him breaking in young-stock, driving tractors, fixing fences, cleaning numnahs or answering emails (if you're lucky!)… He can be reached at riding@transwales.com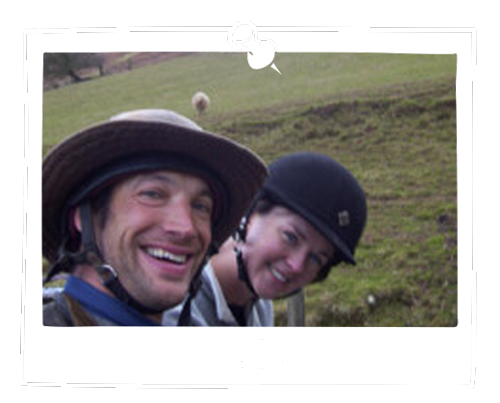 EMILY TURNER
Emily was a television producer in London before she met Paul on a weekend riding break! She is now kept busy running the business with Paul, while attempting to fit in the occasional short-term television contract during the quieter winter months.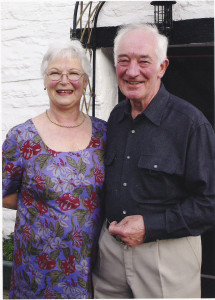 MARIA AND MICHAEL TURNER
Maria Turner (originally from Bavaria, Germany) meticulously ran the guesthouse side of the business for over 40 years, and her cooking skills are legendary. Both her and Mike are attempting retirement these days, but are still very much behind the scenes, helping out!
Michael Turner set up Trans Wales Trails in 1970 and has been busy keeping things perfectly organised ever since. He now helps out with servicing the trail rides, driving your luggage from one stop to another on the trail, and taking care of the breeding stock.
KIRSTY RODGERS
Kirsty Rodgers has been with us for several years now, and knows the local mountain trails like the back of her hand. She can ride any horse going, and is fantastic at looking after riders and making sure they get the most of their rides with us.