Our Loops are popular two day/ 1 night horse riding breaks offering riders the opportunity to go deeper into the remote reaches of the Black Mountain. This is the Eastern area of the Brecon Beacons National Park, and is named after the endless stretches of heather that cover the commons, which look black from a distance.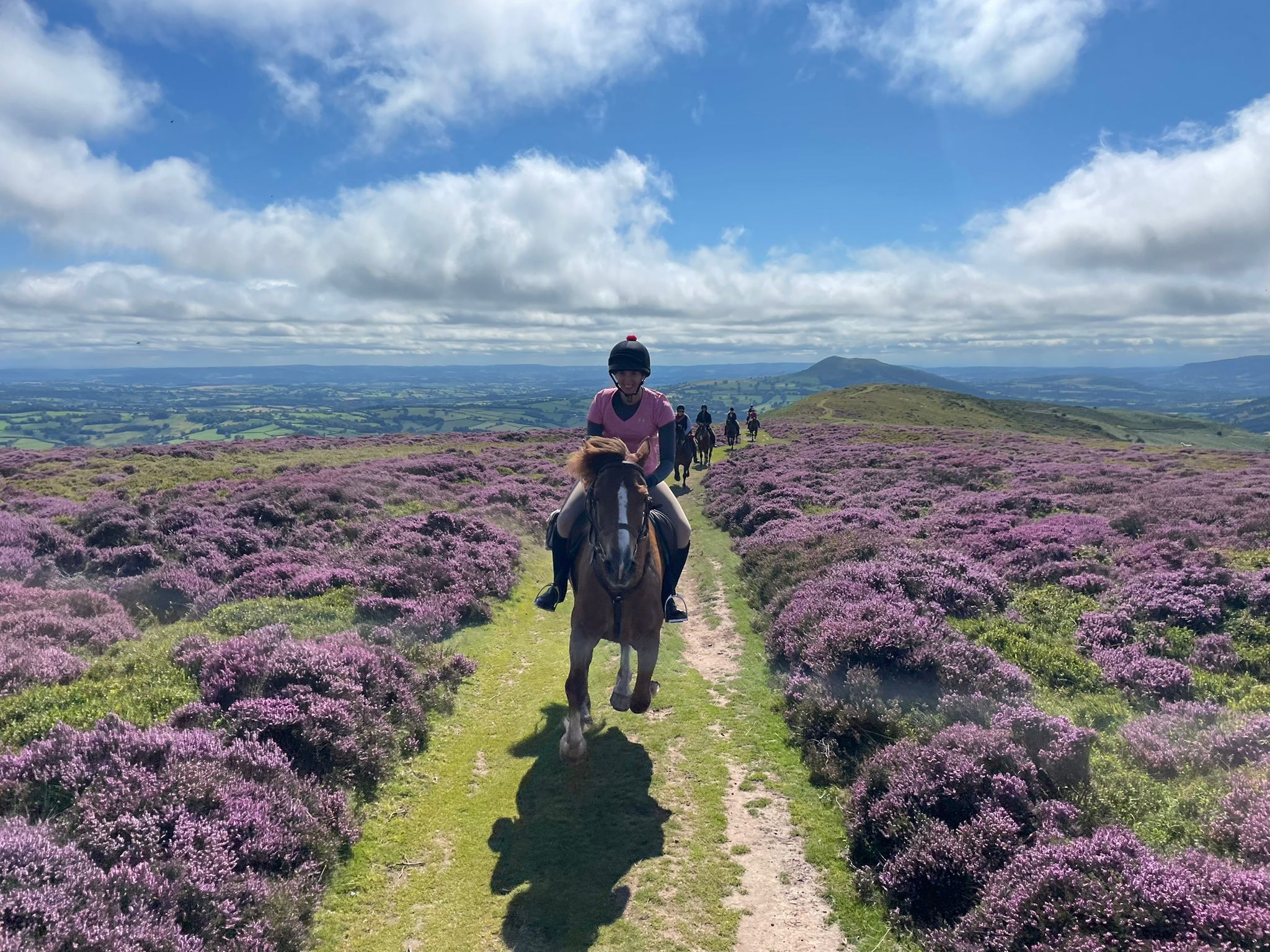 As well as stunning natural wilderness, these trails also include historical interest such as the ancient monastery at Llanthony, or the quaint 'Book Capital of the World' market town Hay-on-Wye.
Each day we stop for lunch either at a traditional pub, or we enjoy a picnic, while the horses take a well-deserved rest.
These breaks are fully inclusive except for dinner at the pub on your evening away, and any drinks during lunch if taken at the pub.
Suitable for fit, intermediate and experienced riders. We cover 15-20 miles each day, spending between 4-6 hours in the saddle.
LLANTHONY LOOP
Heading out through the lanes to warm-up and get acquainted with your equine partner for the weekend, before long you are climbing up Rhiw Trumau, the first of two big climbs today, with amazing views back over Mynydd Troed ('foot' mountain) and if you're lucky, Pen-y-Fan, the highest mountain in South Wales. We enjoy long canters along the top before following the ancient Macnamara's Coach Path down to the Drovers' Bridge over the Gryne Fechan. Here we either picnic on the grassy banks, or trot down the lanes into Llanbedr for a stop at the Red Lion pub,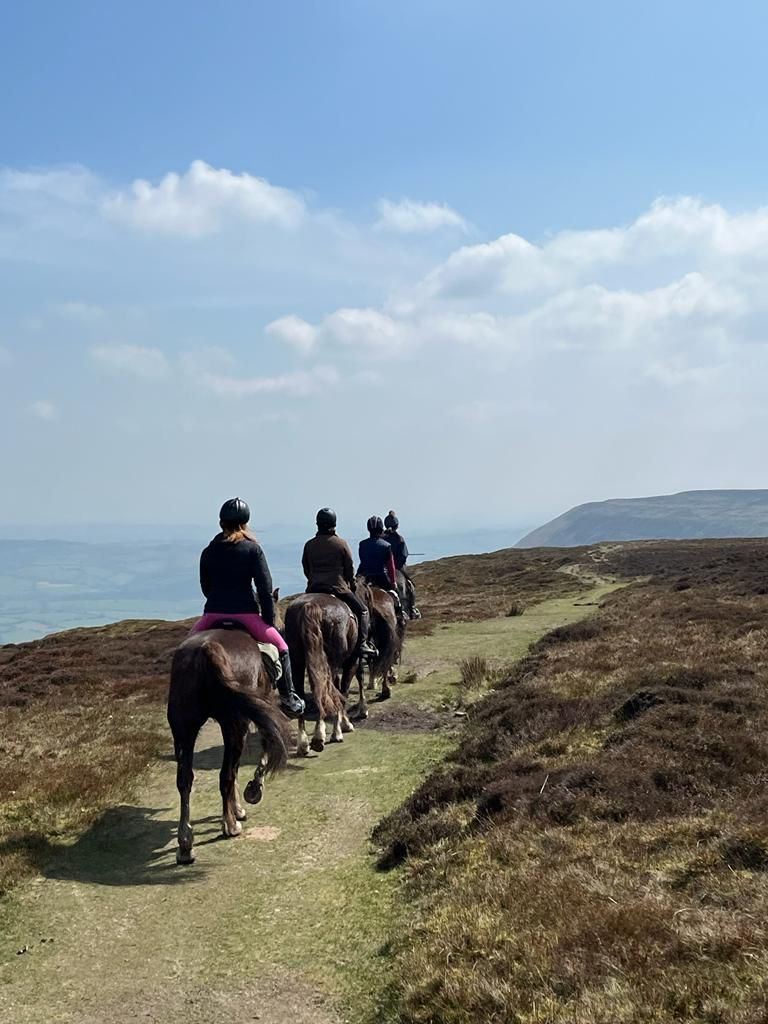 After lunch, we cross the river where the horses can drink, and then follow an old 'Hollow-way' through to a crossroads known as 'five ways' – then to our second climb up onto Hen Pant Ridge, with more long canters along the top. We come down 'Sunny Bank', through a forest, and up through the lanes until we reach the incredible Llanthony Abbey, your home for the night!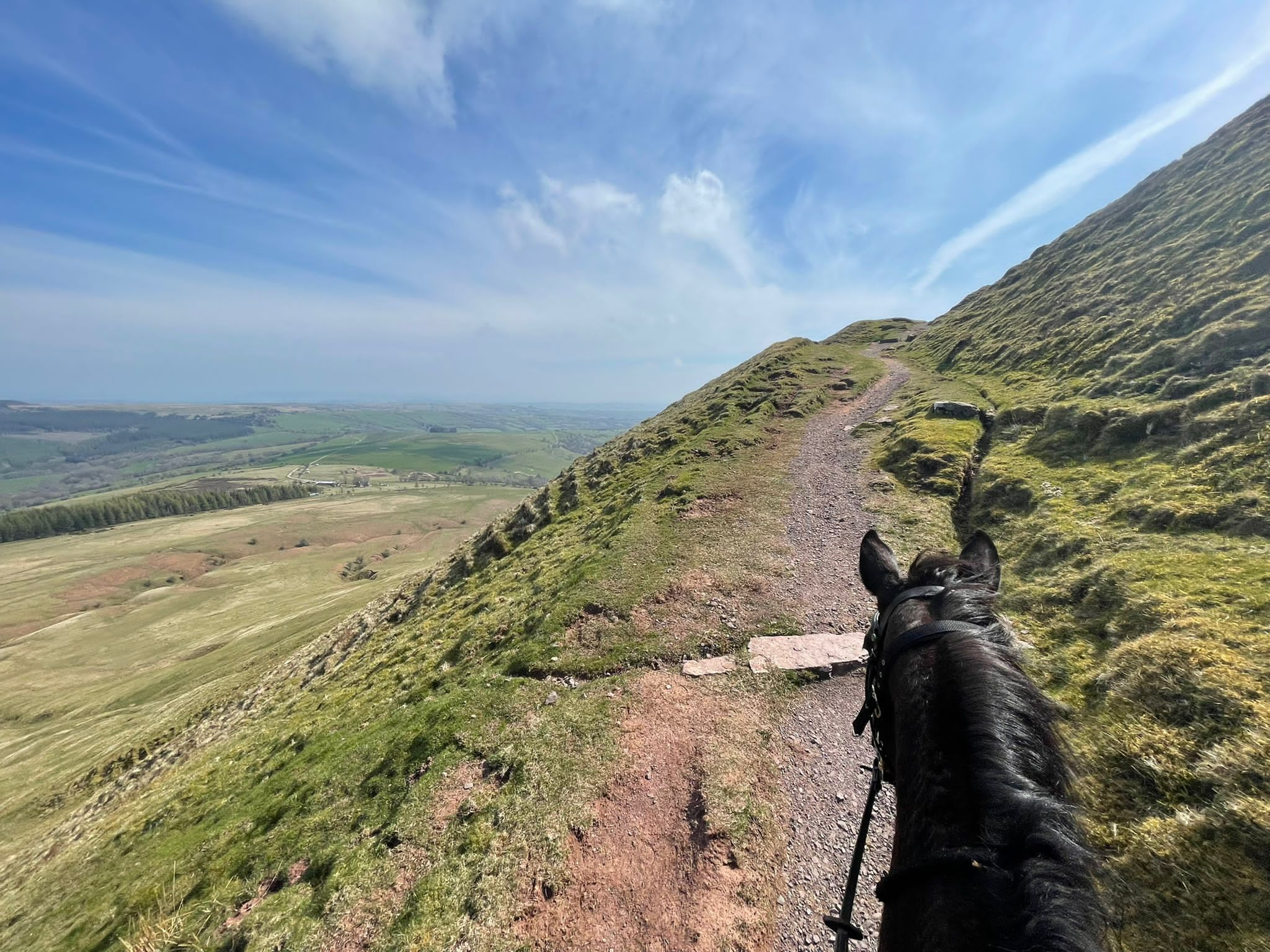 Historians and romantics alike can't failed to be moved by this beautiful 12th century Augustinian Abbey. Nestled in amongst the ruins is your inn, the Priory Hotel. It's a Grade 1 listed building, so none of the bedrooms have en-suite facilities, instead sharing two fully-fitted shower rooms on the first floor, and four of the rooms are reached by a spiral staircase! The rooms are comfortable but simple – it's really a stunning place to switch off and relax, with no wifi and no mobile phone signal!
Dinner is your choice from the menu in the cosy cellar pub – think home-cooked lasagne, casseroles and pies – hearty food that you'll welcome after your long day riding.
On a clear night, the star-gazing will make up for the lack of social media!
On Sunday, after breakfast, we head north up the Llanthony Valley, winding our way through lanes and holloways, before eventually turning west at Capel Y Ffin, and out onto the open hill.
We picnic in a secluded valley, next to a stream where the horses can drink, or we head down to Felindre to a tiny traditional pub. After lunch we ride along the escarpment with lots of opportunity for canters, before coming off the hill and following the Gryb path back to Blaenau.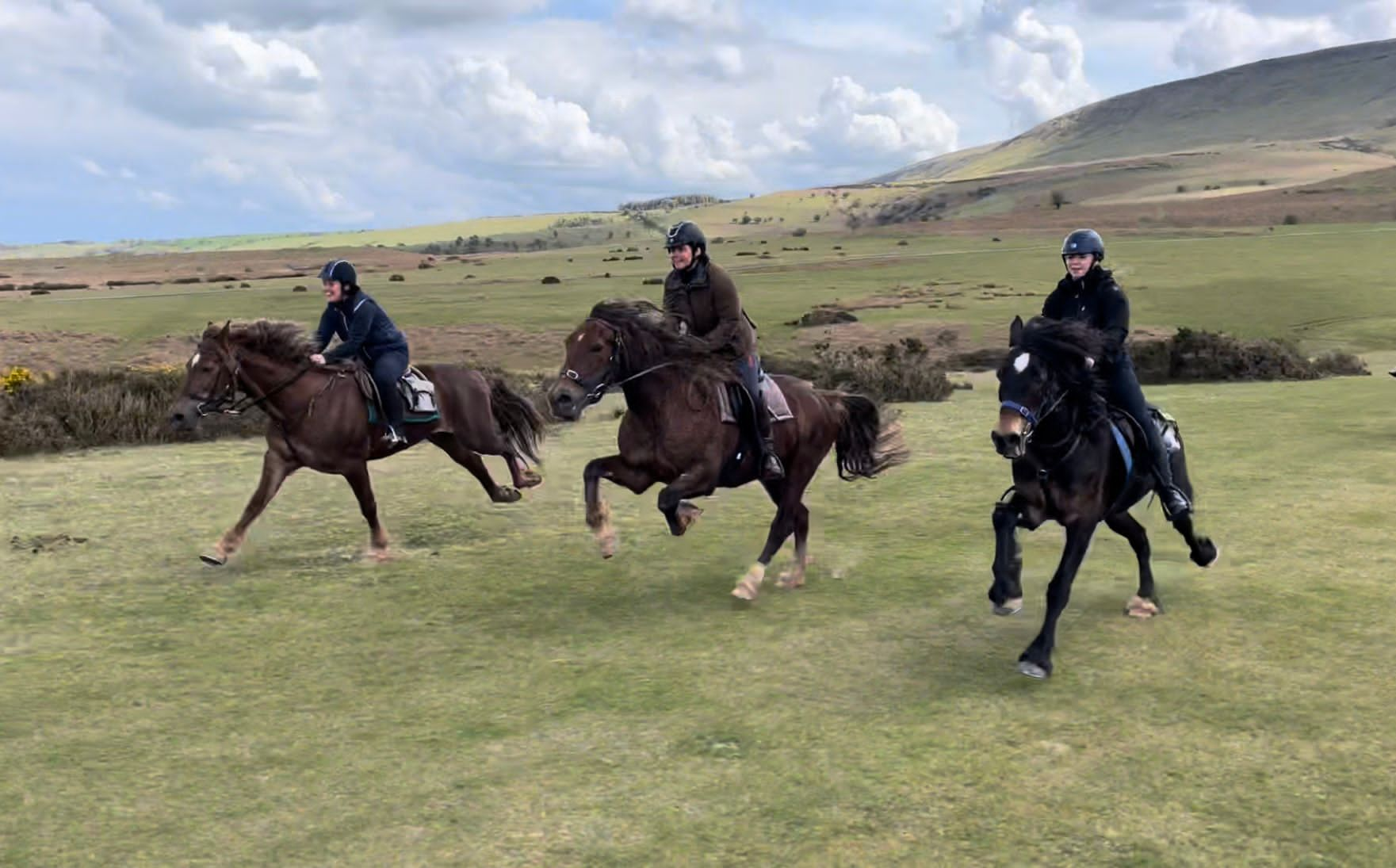 HAY LOOP
After meeting your horse and tacking up at Blaenau, we track up through country lanes to the vast open commons of the Black Mountains, where you are likely to find yourself cantering alongside wild ponies and sheep! 
For lunch, we either picnic in a comfortable grassy spot, or we drop down to a quaint and ancient inn.
Our destination is the fantastic and historic town of Hay-on-Wye, famous for its countless bookshops both new and secondhand. You'll find a warm welcome at your bed&breakfast or small inn, and your luggage will be waiting for you. The horses stay overnight on the outskirts of the town. 
In the morning, a full breakfast will set you up for the return leg of the journey to Blaenau – through the rolling foothills of the Black Mountains, offering long stretches for canters alongside beautiful views, before descending to the farm.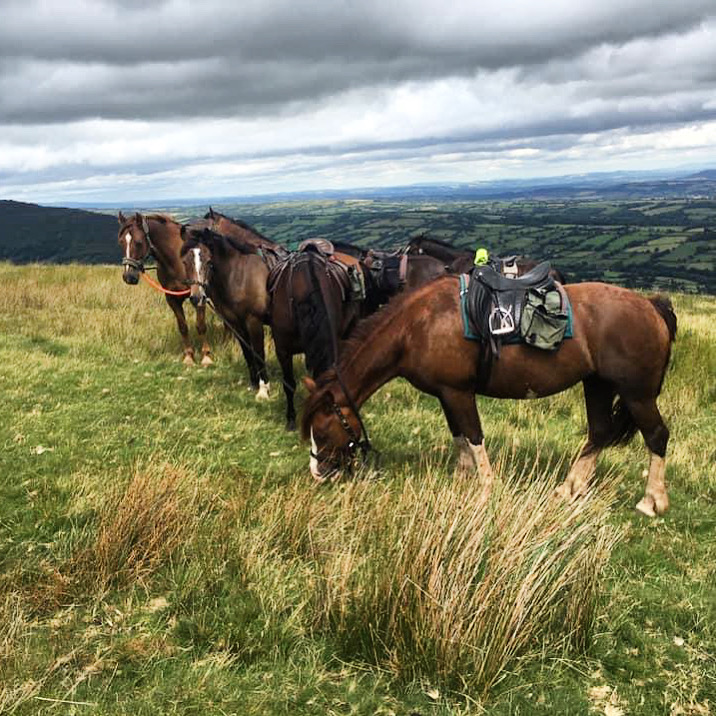 LOOPS:
2 days/ 1 night
ABILITY:

Suitable for intermediate and experienced riders
COST:
£525 per person (fully inclusive except for dinner on the night away)
DATES:
April 13-14 Hay Loop
April 22-23 Llanthony Loop
May 4-5 Hay Loop
June 10-11 Llanthony Loop
June 23-24 Hay Loop
June 29-30 Hay Loop
July 13-14 Llanthony Loop
Aug 10-11 Llanthony Loop
Aug 18-19 Hay Loop
Aug 31 – 1 Sept Hay Loop
Sept 28-29 Llanthony Loop
Oct 19-20 Hay Loop
OTHER DATES AVAILABLE FOR EXCLUSIVE GROUPS

= suits all abilities, must be competent and confident at canter.

= will suit intermediate and experienced riders.

= challenging intermediate and experienced riders.