IMAGINE A WHOLE WEEK TO QUIETLY EXPLORE THE BEAUTIFUL WILD MOUNTAINS OF THE BRECON BEACONS NATIONAL PARK.
This is a week spent on ancient drover routes across the hills where you will share the spectacular landscape only with wild ponies and sheep, and enjoying panoramic views as you gallop over wide open commons.
As well as stunning natural wilderness, trails can also include historical interest such as the oldest pub in Wales, the ancient monastery at Llanthony, or the quaint 'Book Capital of the World' market town Hay-on-Wye.
Each day we stop for at a traditional inn or cafe for a hearty lunch, or enjoy a picnic while our horses take a well deserved break and a grass picnic of their own!
As our trails increase in distance and challenge over the week, the second half of the week is spent away from our base at the Blaenau, so that we can explore the far reaches of the park.
We spend 2 nights away at friendly B&Bs, and enjoy dinner in local pubs, while our horses overnight in fields nearby. This is an exciting and challenging week, and therefore not suitable for novice riders. National Park Trail weeks start on Sundays for most of the season, and on a Saturday during the high season.
Day 1: Riders arrive, settle in, meet the horses and have dinner.
Days 2 and 3  is spent exploring the local Black Mountains, riding between 10- 15 miles a day, stopping for lunch at country inns or remote picnic spots, before returning to the Blaenau each night for a well-earned dinner and comfortable bed. You can change horses each day, and you'll see your stamina and skill increase.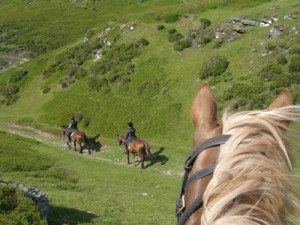 Days 4, 5 and 6 sees us pack up the saddlebags, throw your stuff (carefully!) into the Land-rover, and set off over the ridge towards the very edge of Wales, and Hay-on-Wye.
After a long climb over Rhiw Trumau, we are rewarded with fantastic views back over the Rhiangol valley that we have ridden over for the past three days. We then head down an old coach road to the Red Lion Inn at Llanbedr for lunch.
After lunch we follow a valley path in the shadow of Sugarloaf Mountain to Forest Coal Pit, then ride across Bryn Arw finishing the day at the Skirrid Inn, the oldest pub in Wales, near Abergavenny. The horses are turned out, and a cup of tea and slice of delicious cake awaits tired riders!
Guests stay in a comfortable B&B (your luggage has been delivered already by our land-rover) and dine at the Skirrid Inn, allegedly the oldest pub in Wales!
The next day we ride up Hatteral Ridge on the ancient border between England and Wales, the famous Offa's Dyke path which stretches from one end of Wales to the other, named after King Offa who built it in the 6th century.  You will earn glorious views of the green fields of Herefordshire in England to one side, and on the other the vastness of Wales and the Black Mountains.
Along the top of the ridge between England and Wales there are endless canters to be enjoyed.
We may drop down into Herefordshire to visit the Goat Company farm where there is the chance to buy Angora clothes, blankets and rugs – don't miss out on a pair of mohair socks!
We then ride up on to the Black Hill before descending Hay Bluff and Cusop Dingle towards our bed (and field!) in Hay on Wye.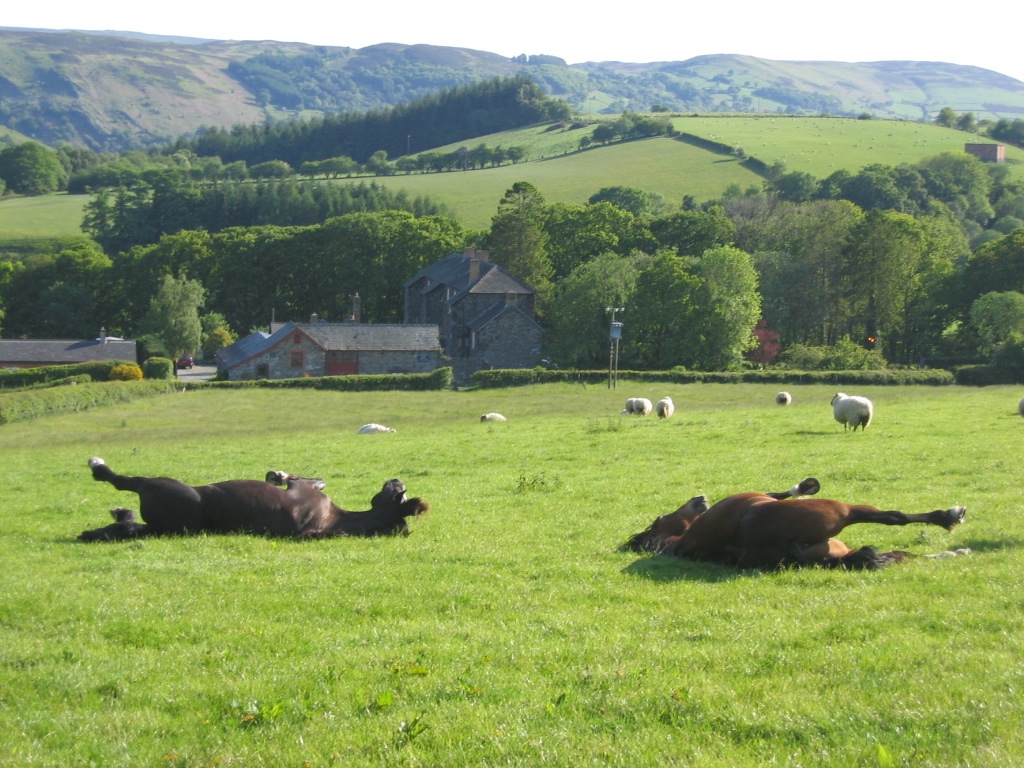 The next day our route back into the Black Mountains takes us into the Wye Valley, where we visit the Three Horseshoes in Felindre for lunch.
After lunch the horses are keen to head back to the Blaenau, and you will be treated to a sensational gallop across Felindre Common to finish off the trip.
Dinner on the final night is always a celebratory affair.
Final day: Riders leave after breakfast, having said goodbye and thank you to their horses.
This really is world-class trail riding right here on our doorstep!
Please do have a look at our facebook page where we upload plenty of pictures from each trail that we complete as the season goes on as they will give you a real idea of what our holidays are like! Just click on the little green F down the side of this page.
ABILITY:

2020 DATES:
May 10 – 16 (Sun to Sat, 5 days/6 nights) £1200June 21 – 26 (Sun – Fri, 4 days/5 nights) £1000July 11 – 17 (5 days/6 nights) £1200August 1 – 7 (5 days/6 nights) £1200Sept 26 – Oct 2 (5 days/6 nights) £1200
COST: fully inclusive except for drinks during lunch and dinner

= suits all abilities, must be competent and confident at canter.

= will suit intermediate and experienced riders.

= challenging intermediate and experienced riders.