Our two 'Triangle Trails' are 3 days/ 2 nights of spectacular and challenging fully-serviced and guided riding, covering longer distances each day than our local trail rides. We take your luggage ahead to your night-time stop, and horses stay nearby. These trail riding holidays offer competent riders the chance to really get away from it and experience the remote beauty of the Brecon Beacons National Park.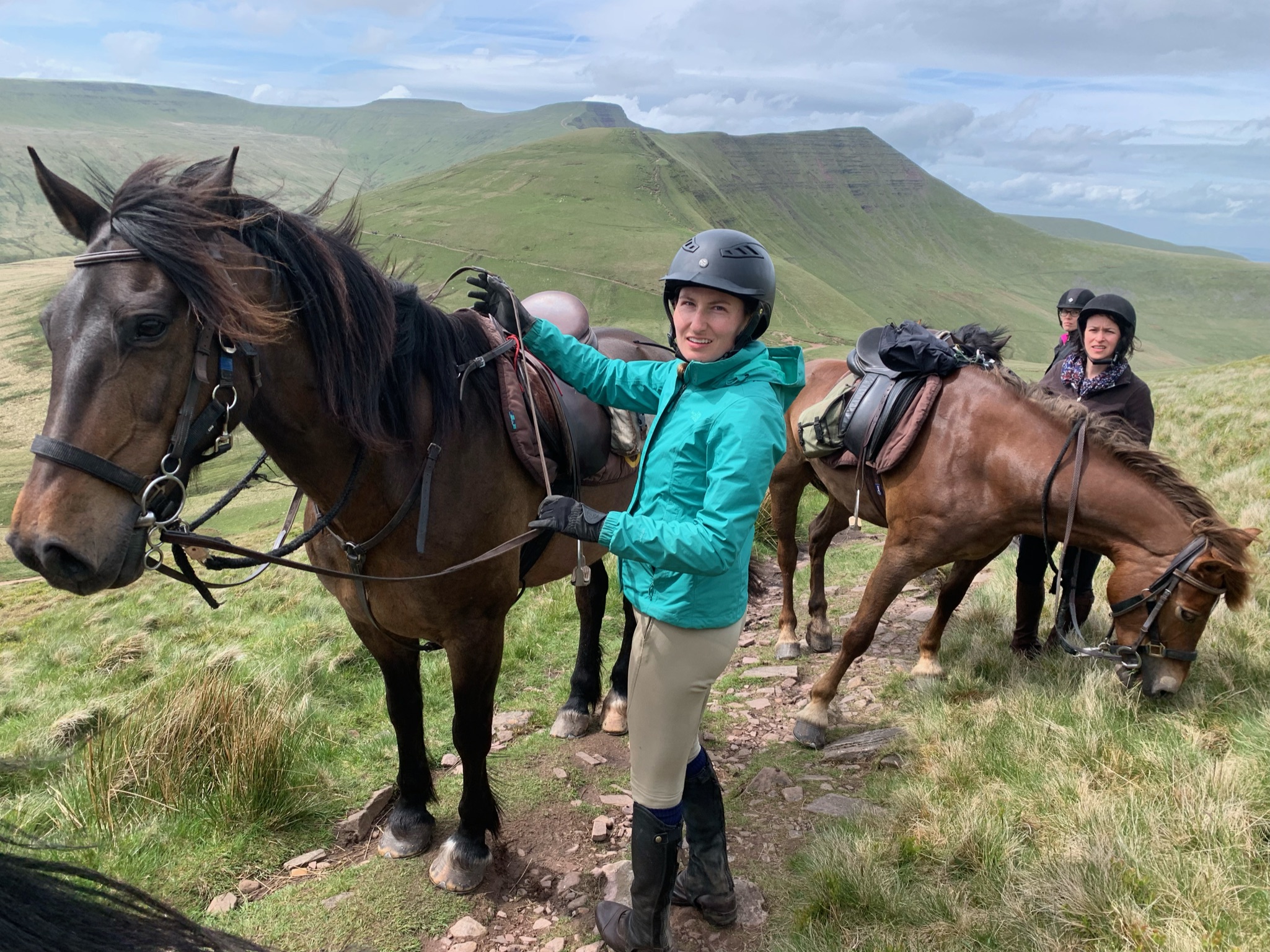 HAY TRIANGLE
The Hay Triangle is a spectacular and challenging three-day fully-serviced and guided trail ride, which takes riders on a triangular route out along the 'Golden Horseshoe' of the Black Mountains, up the magical Llanthony Valley, and then on to the fascinating 'book town' of Hay-on-Wye.
Covering longer distances each day than our local trail rides, this ride will suit riders looking for a challenge, offering plenty of fast-paced riding along mountain ridges and down through the valleys, with fantastic scenery high above the border of England and Wales.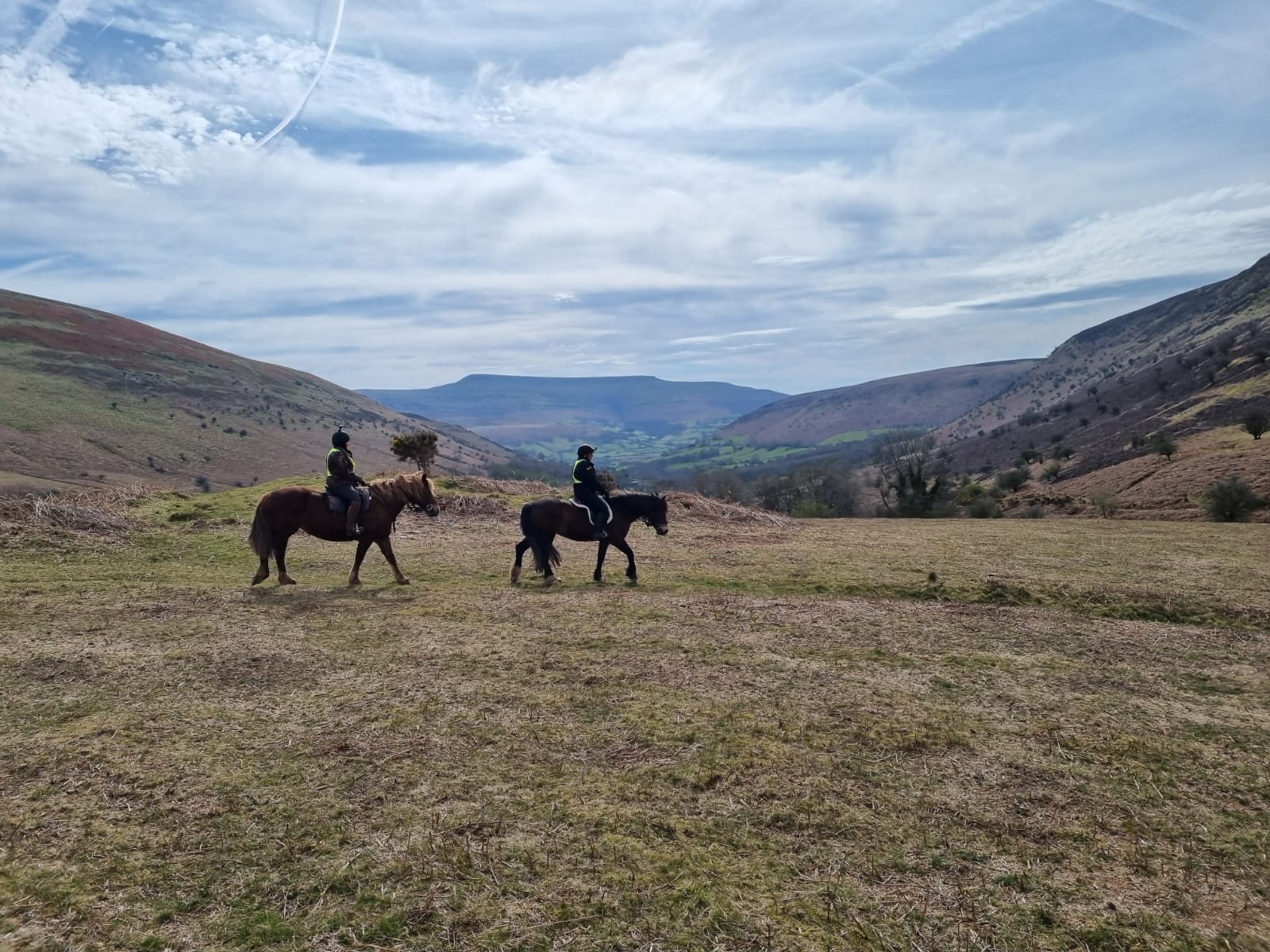 Your luggage is transported for you each day so that it is waiting for you when you arrive at your accommodation. We stay at friendly comfortable inns and guesthouses along the way, with fantastic food – you'll need it after a long day riding! The horses spend the night in a field nearby.
The trail ride starts with registration at Blaenau, on Tuesday morning, and finishes after well-deserved tea and cake on Thursday afternoon. We can recommend some great local B&Bs if you wish to stay the night before or after the trail ride, and sometimes there may also be space at Blaenau to stay.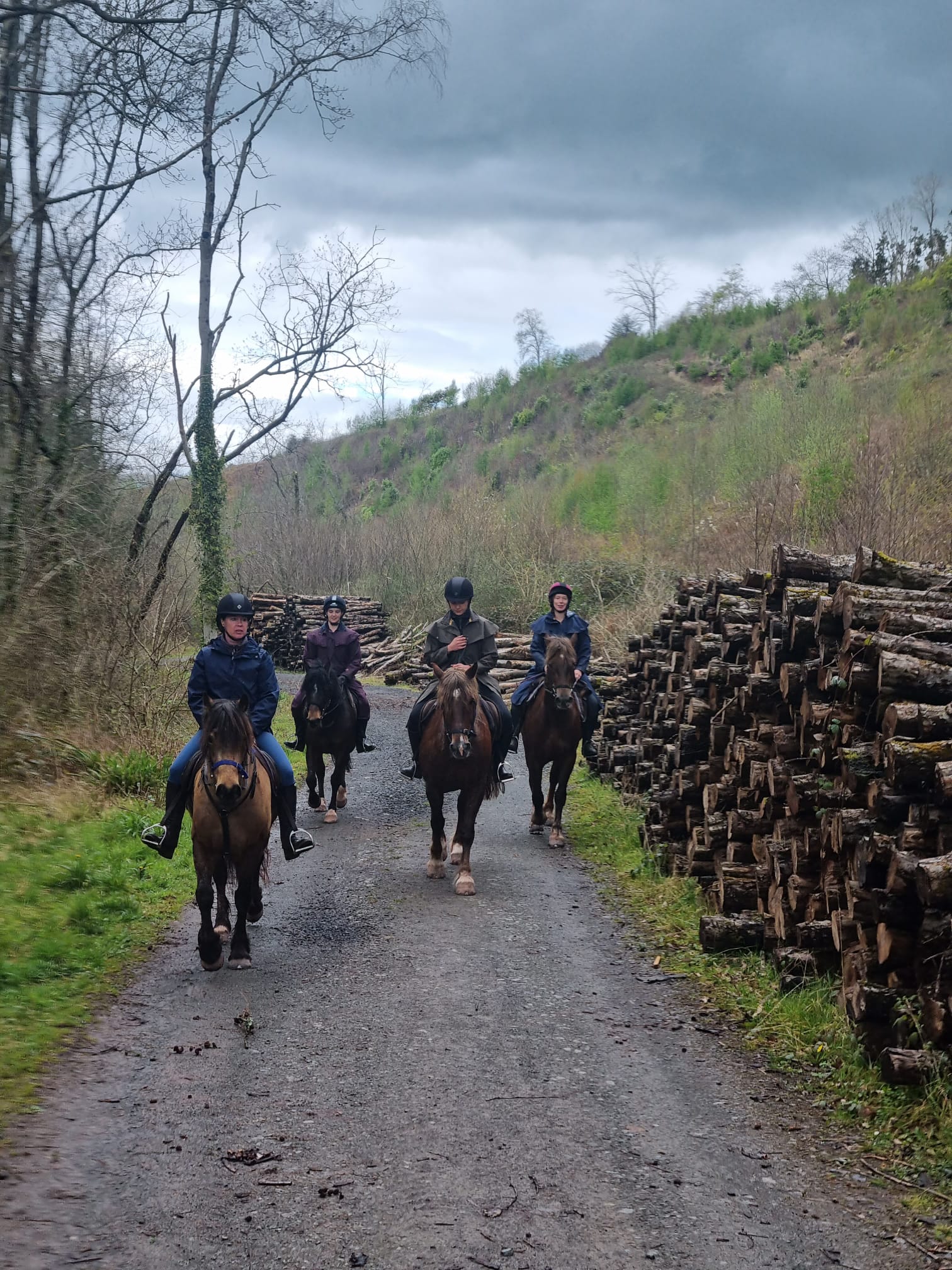 Day 1 sees us pack up the saddlebags, throw your stuff (carefully!) into the Land-rover, mount up and wind our way up through the lanes and set off over the ridge towards the very edge of Wales.
After a long climb over Rhiw Trumau, we are rewarded with fantastic views back over the Rhiangol valley. We then head down an old coach road to the Red Lion Inn at Llanbedr for lunch.
After lunch we follow a valley path in the shadow of Sugarloaf Mountain to Forest Coal Pit, then ride across Bryn Arw finishing the day in the village of Llanvihangel Crucorney. 
Guests stay in a comfortable B&B (your luggage has been delivered already by our land-rover) and dine at the Skirrid Inn, allegedly the oldest pub in Wales! The horses are turned out, and a cup of tea and slice of delicious cake awaits tired riders. 
Day 2 we ride up Hatteral Ridge on the ancient border between England and Wales, the famous Offa's Dyke path which stretches from one end of Wales to the other, named after King Offa who built it in the 6th century.  You will earn glorious views of the green fields of Herefordshire in England to one side, and on the other the vastness of Wales and the Black Mountains.
Along the top of the ridge between England and Wales there are endless canters to be enjoyed.
We ride up on to the Black Hill before descending Hay Bluff and Cusop Dingle towards our bed (and field!) in historic Hay-on-Wye, a quaint market town made famous for its bookshops.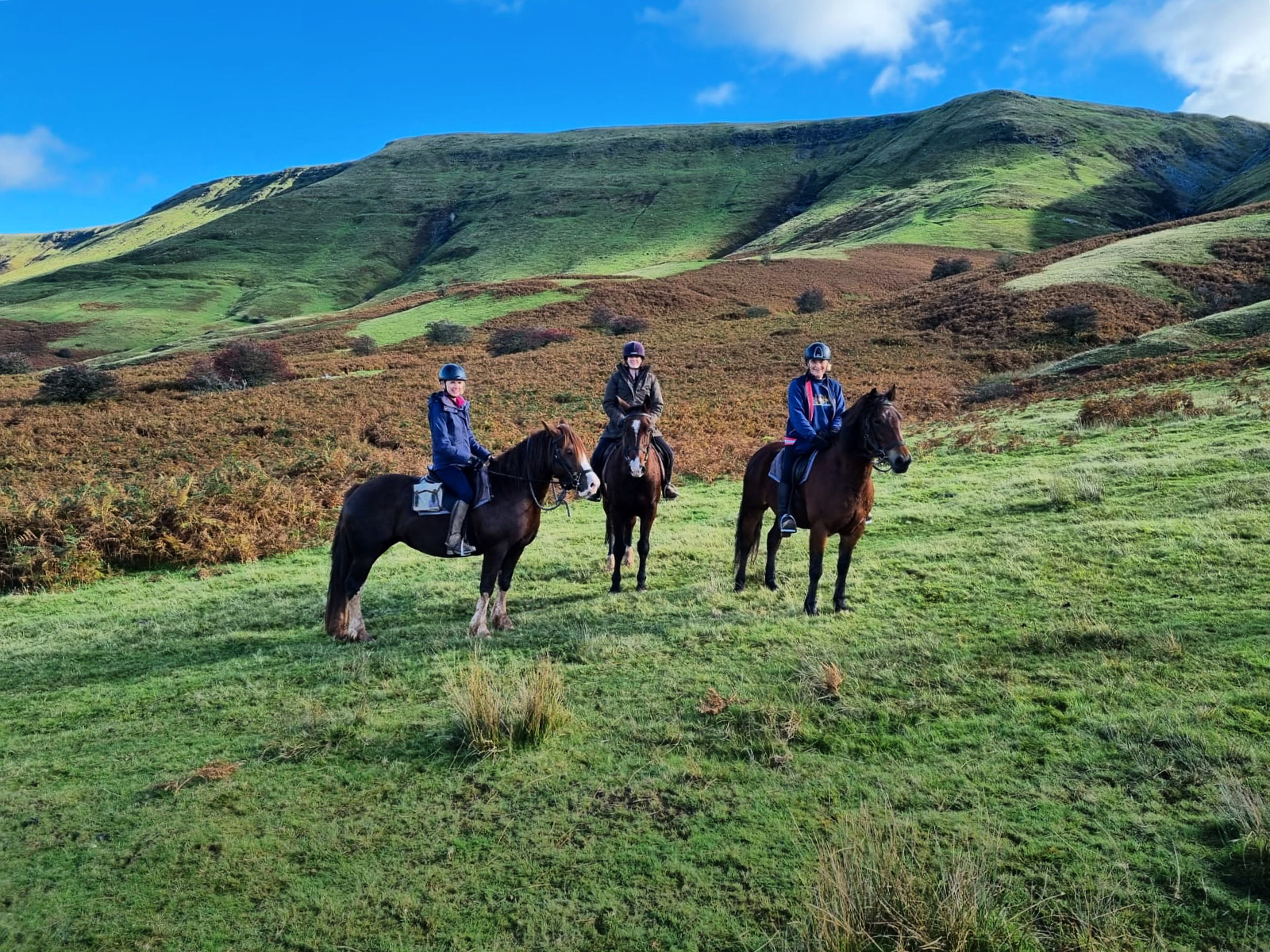 Day 3 sees us set up Cusop Dingle, a steep wooded valley that leads out of Hay-on-Wye, across the river and head up onto the lower reaches of Hay Bluff. We ride along the lower regions of the northern escarpment of the Black Mountains before descending through Hay Wood to the small village of Felindre.
We lunch at the ancient Three Horseshoes pub, before heading homewards to Blaenau via Felindre Common for a glorious run along the grassy tracks.
Back at Blaenau, riders relax by the little stream with tea and cake before heading home.
This trail can also be run over a weekend or any dates for a group of between 4 to 8 riders. We are always flexible, so please just let us know your requirements.
Suitable for intermediate and experienced riders. Approximately 4-5 hours in the saddle each day.
£750 for 3 days/ 2 nights, fully inclusive of all meals, accommodation and three days vehicle-supported guided trail riding. Scroll down for 2022 DATES on a mobile device.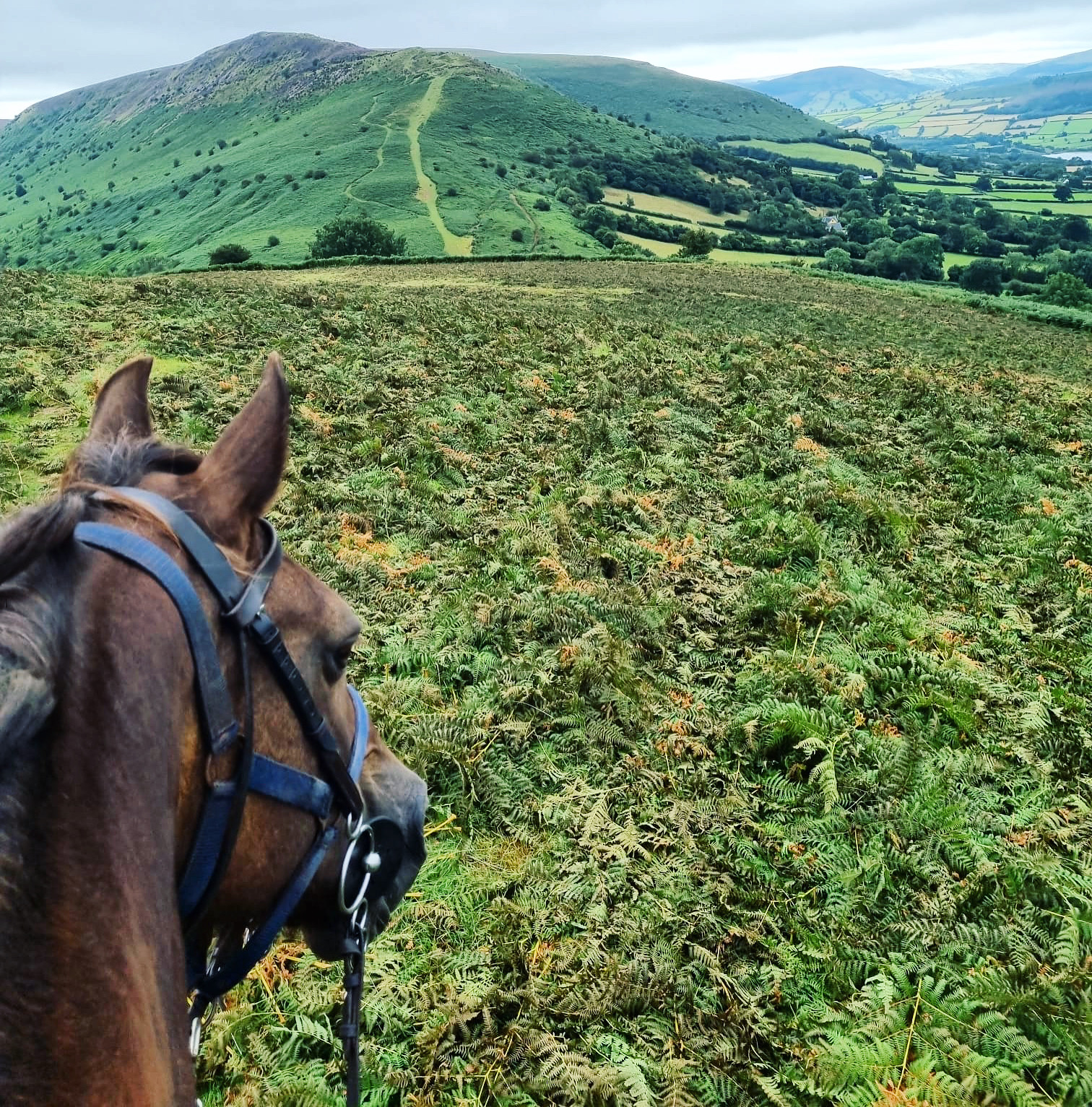 BEACONS TRIANGLE
New for 2022!
Day 1 sees us set off through quiet country lanes and bridleways before turning west, crossing the old railway line and then enjoying a long ancient hollow-way  beneath Llanfilo. We cross the Usk in Brecon itself, and head up onto the grassy common beneath Mynydd Illtud for long canters, with the most incredible of the Beacons range in all their glory – these are the highest mountains in South Wales. We stay near the Mountain Centre in the heart of the Beacons area.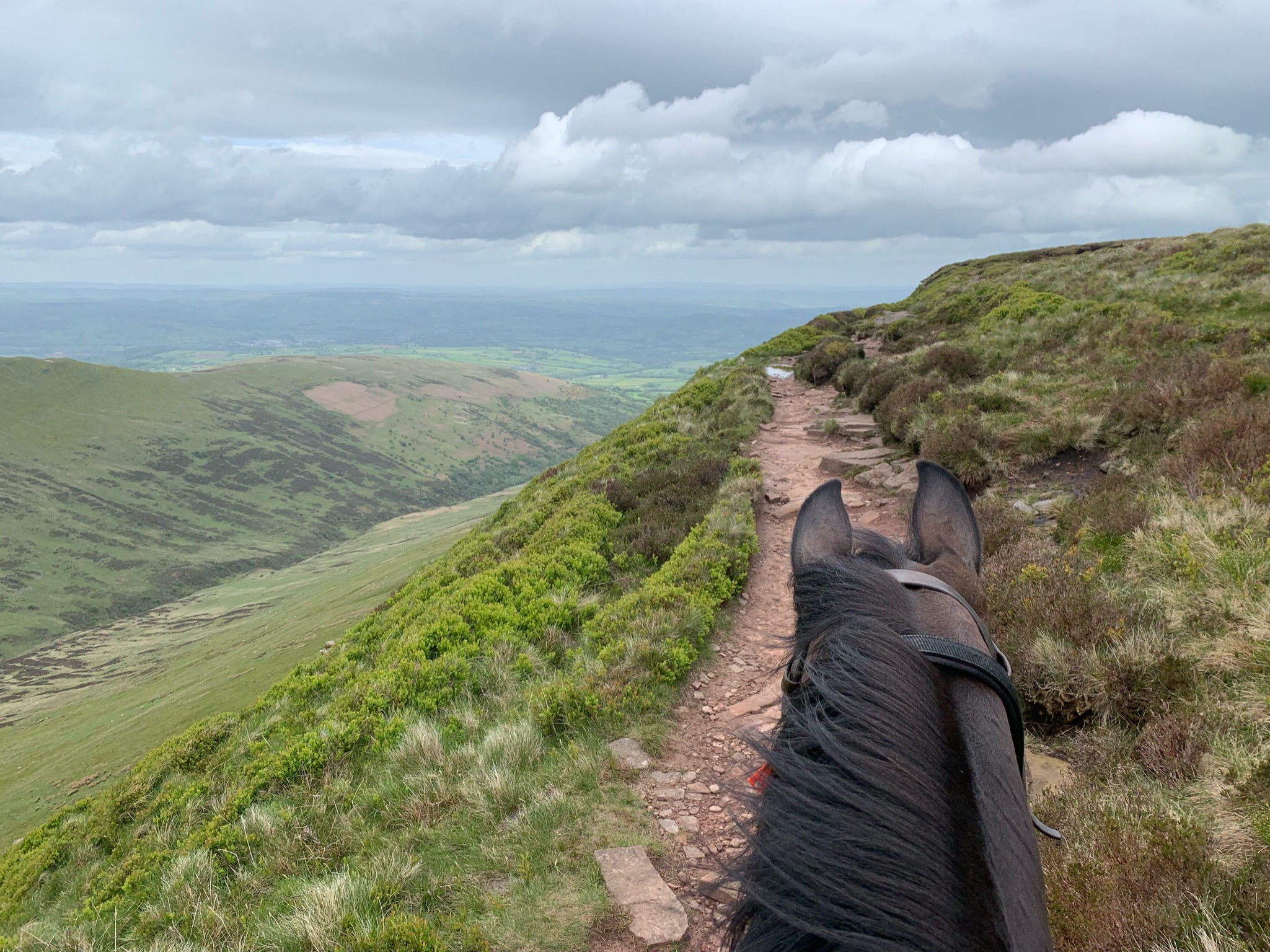 Day 2 gives us an option of two routes, depending on the weather.
The first one sees us cross onto the main massif of the Beacons, riding up the Cwm Orgem valley, taking a picnic in the forestry. Then we cut back under the towering peak of Fan Y Big, taking the Taff Trail down through Talybont Forest.
The other route takes us up the old Roman road, under Pen Y Fan itself (the tallest peak in South Wales) before following the Beacons Way down to the waterfalls at Torpantau, where we have a picnic near an old railway tunnel which was once the highest tunnel in Britain!
Then we ride open moorland with stunning limestone terrain travelling east towards the top of the ancient Tramway, which was used to transport the quarried stone into the heart of the Welsh Valleys. We follow this route above Talybont reservoir and drop down to Talybont for the night.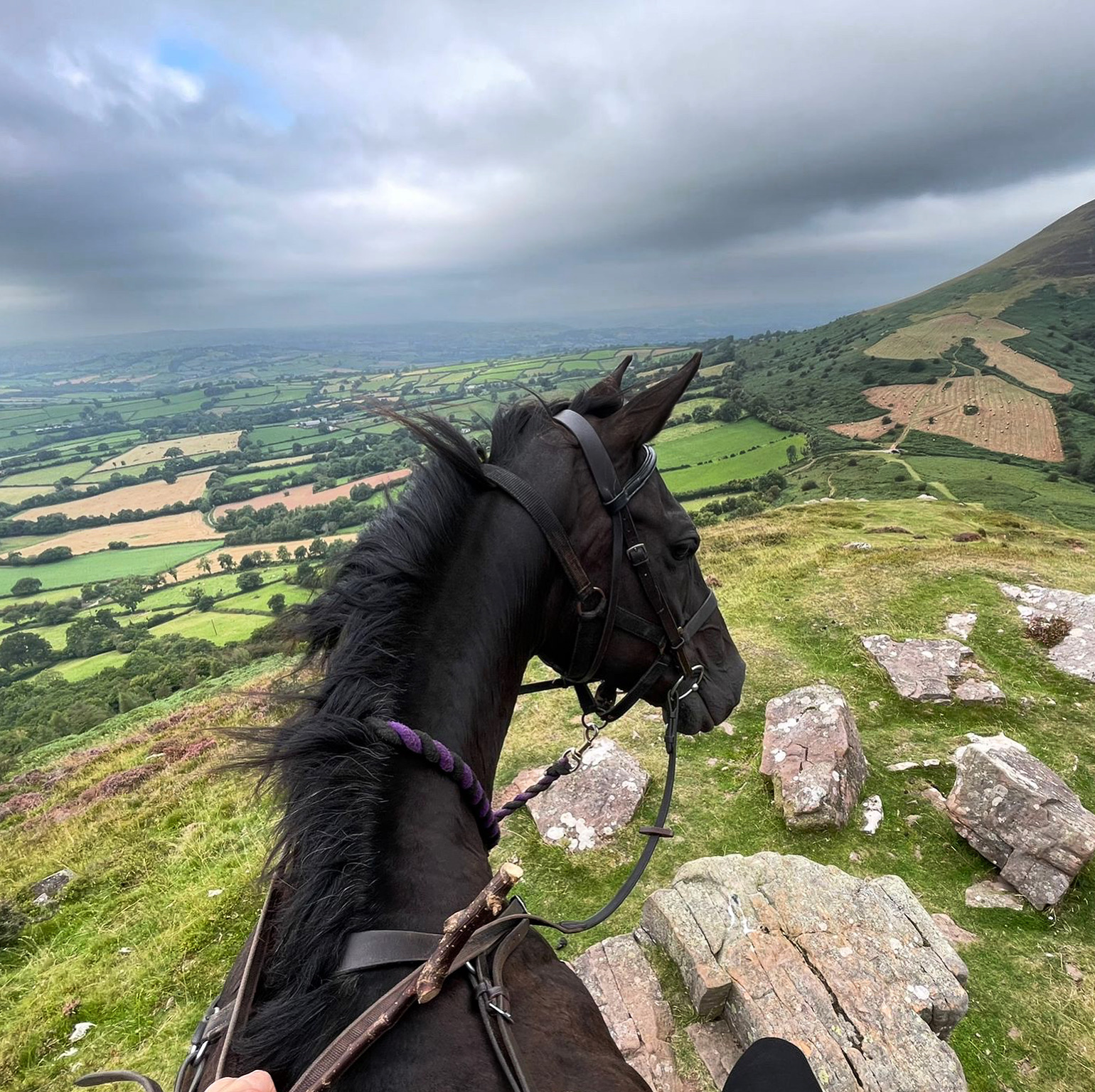 Day 3 sees us set off in the morning towards the edge of Tor y Foel before descending over the canal to Llangyndir for lunch. In the afternoon we make our way back across Bwlch mountain, past the Cockitt with a final run along the side of Mynydd Troed.
The ride finishes back at Blaenau, with a well-deserved cup of tea and slice and cake.
£750 for 3 days/ 2 nights, fully inclusive of all meals, accommodation and three days vehicle-supported guided trail riding. Scroll down for 2022 DATES on a mobile device.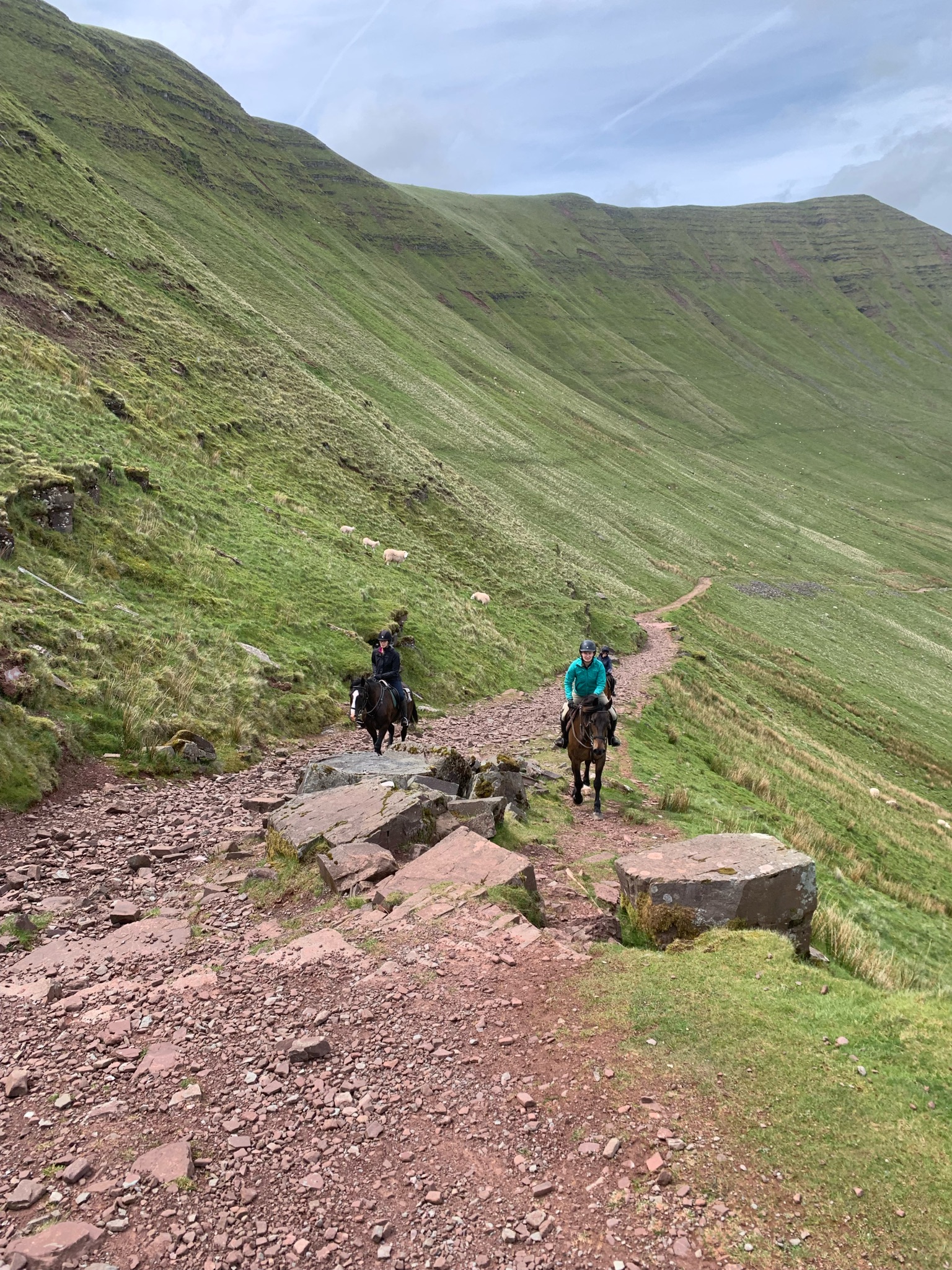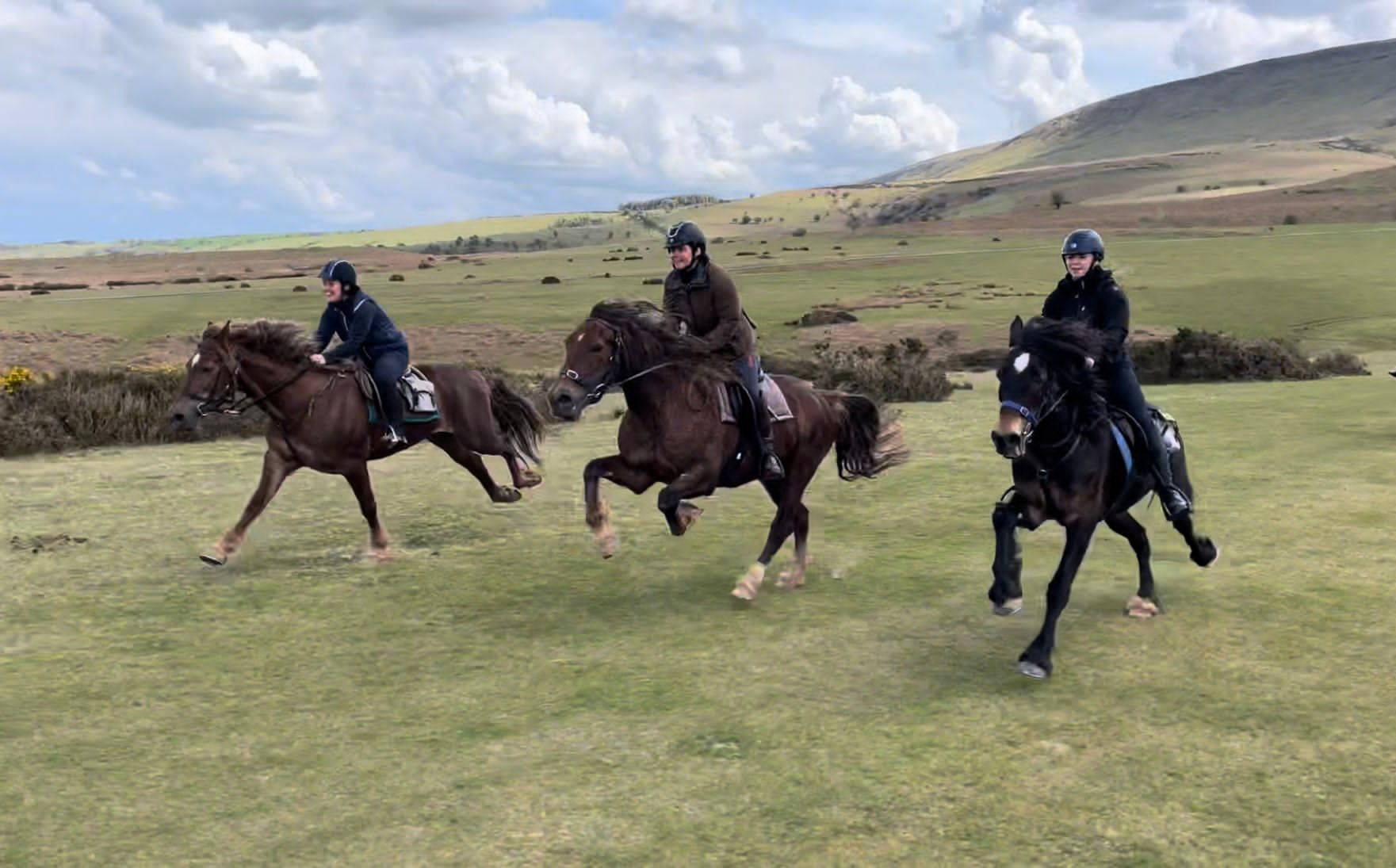 TRIANGLE RIDES:
3 days/ 2 nights
ABILITY:

2022 TRIANGLE DATES
19- 21 April Hay Triangle
3-5 May Hay Triangle
6-8 May Hay Triangle
15-20 Beacons Triangle Plus (arrive Sunday, ride Monday locally, then Tues-Thurs on the Triangle, leaving Friday after breakfast)
7-9 June Hay Triangle
14-16 June Hay Triangle
28-30 June Beacons Triangle – DISCOUNTED SPACES AVAILABLE
12-14 July Hay Triangle
19- 21 July Hay Triangle
26-28 July Beacons Triangle
2-4 August Hay Triangle
9- 11 August Hay Triangle
16-18 August Beacons Triangle
23-25 August Hay Triangle
30 Aug- 1 Sept Hay Triangle
13-15 Sept Hay Triangle
27-29 Sept Hay Triangle
11-13 Oct Hay Triangle
COST £750 per person 3 days/ 2 nights fully inclusive.
OTHER DATES AVAILABLE ON DEMAND AND FOR EXCLUSIVE GROUPS

= suits all abilities, must be competent and confident at canter.

= will suit intermediate and experienced riders.

= challenging intermediate and experienced riders.