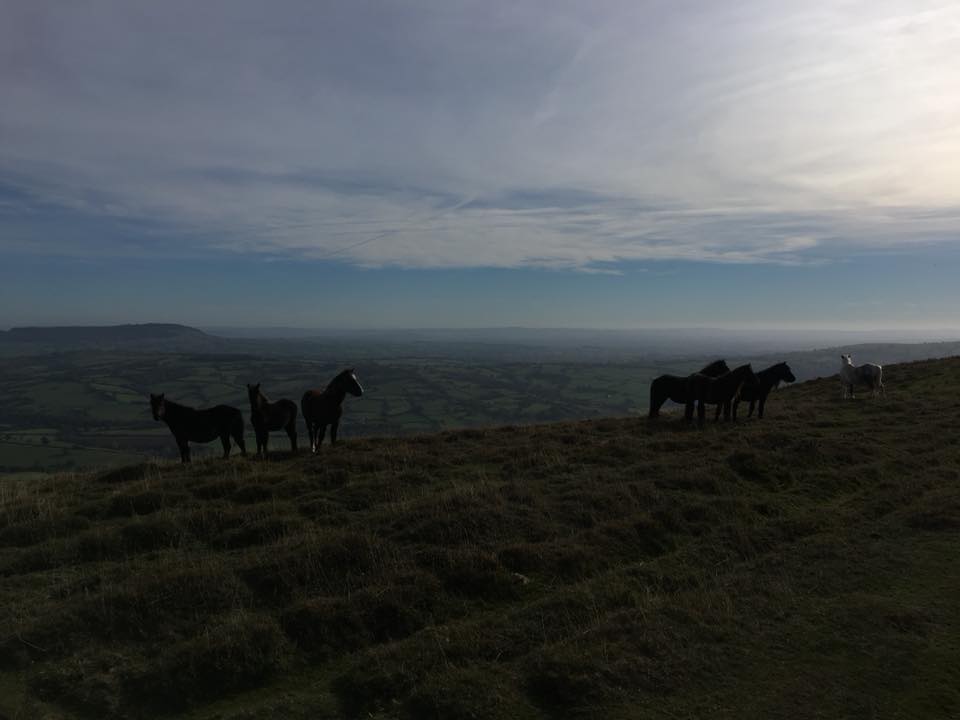 The Hay Triangle is a spectacular and challenging three-day fully-serviced and guided trail ride, which takes riders on a triangular route out along the 'Golden Horseshoe' of the Black Mountains, up the magical Llanthony Valley, and then on to the fascinating 'book town' of Hay-on-Wye.
Covering longer distances each day than our local trail rides, this ride will suit riders looking for a challenge, offering plenty of fast-paced riding along mountain ridges and down through the valleys, with fantastic scenery high above the border of England and Wales.
Your luggage is transported for you each day so that it is waiting for you when you arrive at your accommodation. We stay at friendly comfortable inns and guesthouses along the way, with fantastic food – you'll need it after a long day riding! The horses spend the night in a field nearby.
The trail ride starts with registration at Blaenau, on Tuesday morning, and finishes after well-deserved tea and cake on Thursday afternoon. We can recommend some great local B&Bs if you wish to stay the night before or after the trail ride, and sometimes there may also be space at Blaenau to stay. You may also wish to extend your stay into the weekend. This trail can also be run over a weekend or any dates for a group of between 4 to 8 riders. We are always flexible, so please just let us know your requirements.
Suitable for intermediate and experienced riders. Approximately 4-5 hours in the saddle each day.
£650 for 3 days/ 2 nights, fully inclusive of all meals, accommodation and three days vehicle-supported guided trail riding.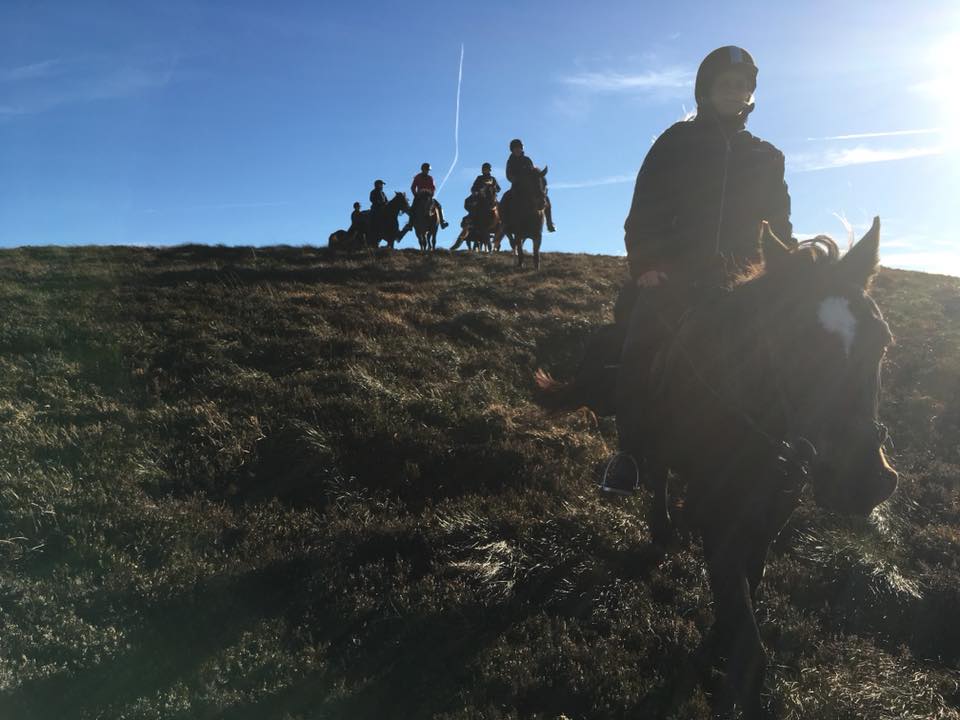 HAY & LLANTHONY LOOPS – EPIC WEEKEND TRAIL RIDES
We developed these weekend rides last year after listening to many of our regular weekend guests, who wanted a trail ride with an 'away' stay, a little more distance and challenge than our local rides, and yet still run over the weekend – so the Loops were born. All riders spend Friday here with us at Blaenau, getting to know their fellow riders over welcome drinks, followed by a home-cooked evening meal. On Saturday, after fuelling up with a fully-cooked Welsh breakfast on Saturday morning,  we set off either to Hay-on-Wye, or to Llanthony.
When you arrive at your overnight stop, your luggage will be waiting for you. The horses stay in a field overnight, while you relax over a pub meal – we usually organise a table somewhere, although in Llanthony there's only one choice, the brilliant Priory Pub in the cellar beneath the Priory. Dinner is at your own cost.
In Hay, we usually stay at a comfortable and friendly bed & breakfast. In Llanthony, we stay in the magical hotel in the grounds of the Priory itself.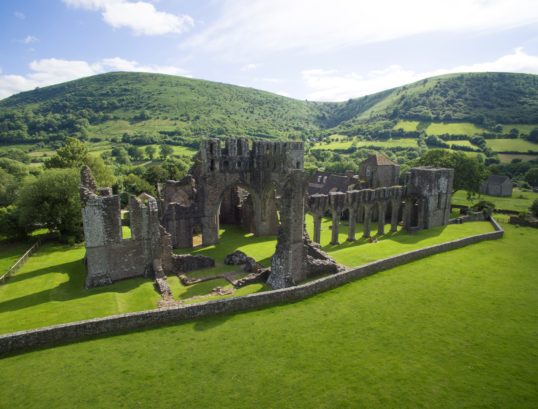 On Sunday, we return to Blaenau along a different route, reaching the yard at around 4pm. Riders head off around 5.30pm after helping to feed and groom the horses, and finally well-deserved tea and cake up at the farmhouse.
Find more details on the weekends here (scroll past Hay Triangle details)
Riding days are approximately 4-5 hours in the saddle each day, with a break for lunch. Lunches are either picnics en-route, or simple meals at a pub – sandwiches and chips for example.
£480 for 2 days/2 nights, fully inclusive of all meals except dinner on Saturday night, accommodation and two days vehicle-supported and guided trail riding. We can also run this trail ride for any 2 days midweek or weekends for private groups of 4 plus at no extra cost.
ABILITY:

2021 HAY TRIANGLE DATES
May 18-20
June 15-17
July 6-8
August 3-5
Sept 14-16
COST: £650 three days fully-serviced all-inclusive trail riding (except drinks at dinner), finishing Thursday afternoon after the ride. Additional night dinner, bed and breakfast on Mon and/or Thurs at £100 per person per night when available.
HAY TRIANGLE PLUS: Extend your holiday with a stay at Blaenau and a day local riding to warm-up first. Available most dates where a Hay Triangle is running, please enquire. Cost £1050 for 4 days riding/ 5 nights fully inclusive.
LLANTHONY LOOP DATES:
June 18-20
July 9-11
Aug 20-22
Sept 3-5
Oct 1-3
COST: £480 on twin-share basis, 2 days/ 2 nights fully-supported trail riding, including guide and transport. Not included: dinner on Saturday night in the pub at Llanthony Priory.
HAY LOOP DATES:
July 30 – Aug 1
Other dates available for groups of 4-8 riders any date to suit, please enquire. Cost £480 as Llanthony Loop.

= suits all abilities, must be competent and confident at canter.

= will suit intermediate and experienced riders.

= challenging intermediate and experienced riders.