POPULAR AND FLEXIBLE HORSE RIDING HOLIDAYS BASED HERE AT THE BLAENAU, RIDING OUT EACH DAY EXPLORING THE SURROUNDING BLACK MOUNTAINS.
These farm-based breaks are the ultimate all-inclusive horse riding holiday, with everything taken care of, so that you can simply turn up, sit back and relax in the knowledge that we'll look after you. Staying right here in our beautiful traditional 400-year-old Welsh Longhouse in our comfortable rooms, you'll adventure out each day on an exciting trail ride, stopping at a local pub or cafe en-route for lunch, or enjoying a picnic out on the hill. Home-cooked breakfasts and sociable dinners based on locally-sourced food means you'll have plenty of energy for the riding!
These holidays are suitable for all levels of rider, as we have lots of flexibility to change routes and horses during your stay. Our local trails will put you and your horse through your paces over the most varied of terrains. Mountain and moorland tracks, valleys and pasture land; we will take you through some of the most beautiful parts of the Welsh countryside.
When you stay here at Blaenau you really get to know our horses, who live here in the fields surrounding the longhouse, and in the barn, and are truly part of the family! We breed our Welsh Section D cobs here, and you'll often get to meet foals and youngsters.
Warning: it has been known for guests to take their horses home!
Together we catch, groom and tack up the horses, so that by the time we are ready to mount, riders and horses have got to know one another.
Each day we set out on a different trail, covering between 8 -14 miles a day, stopping for lunch at village inns or remote picnic sites high up in the Black Mountains.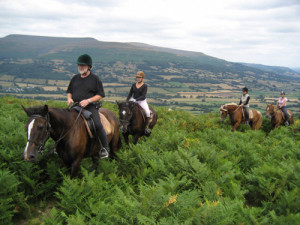 When we return to the yard, we untack together, then once the horses are fed and turned out, we relax together over a pot of tea and a home-made cake.
In the evenings, there's a comfortable lounge where guests can enjoy pre-dinner drinks around a log-fire, and home-cooked dinners are served in the dining room overlooking the stream, at the communal dining table. It's lots of fun, and super-relaxed, and everyone is welcome – we get lots of single people booking too, and you'll soon make friends.
Guests stay in comfortable twin rooms with en-suite shower rooms.
Non-riding partners are also welcome at a reduced price, and can enjoy the fantastic walking or biking right from the door, and can even meet the riding group at the pub for lunch for a more sociable experience!
Some guests also choose to take a day or half-day off from riding, and visit one of the local towns (Hay-on-Wye is always popular for bookshop browsing!) – so it really is a riding holiday centred around your relaxation and enjoyment.
Everything is included except for drinks at the pub during lunch, and alcoholic drinks at dinner, but you're welcome to bring your own.
Why not follow us on Facebook or Instagram to get a real idea of what our holidays are like! Just click on the little green F down the side of this page!
ABILITY:

Suitable for all abilities, must be competent and confident at canter
COST:
From £525 for 2 days/ 2 nights fully inclusive
2023 DATES:
Also please see WEEKEND BREAKS HERE.
April 3-7 Midweek breaks (2-4 nights) available
April 10-14 Midweek breaks (2-4 nights) available
May 2-5 Midweek breaks (2-4 nights) available (can combine with Hay Loop)
July 21-28 Royal Welsh Show Week – combine any number of days/ nights with a day out at the Royal Welsh Show – Welsh cobs galore!
July 24-28 Midweek breaks (2-4 nights) available
Aug 25-28 Long weekend (dinner at the pub) – 3 days/ 3 nights
October/ November – midweek breaks available on demand

= suits all abilities, must be competent and confident at canter.

= will suit intermediate and experienced riders.

= challenging intermediate and experienced riders.