RIDE AND UNWIND IN THE BRECON BEACONS – A WHOLE WEEKEND OF SPECTACULAR AND THRILLING HORSEBACK TRAIL-RIDING, GOOD FOOD AND THE BEST COMPANY!
Take 48 hours out of your schedule – fill it with two full days trail-riding on a beautiful Welsh Section D cob, add comfortable accommodation and home-cooked meals in our traditional 17th Century Welsh Longhouse, log-fires or a glass of wine on the sun-soaked terrace in the evenings, add an old friend or two, and a sprinkle of new ones – it's a recipe for an unforgettable weekend of horse-riding adventures, challenge and chill-out time.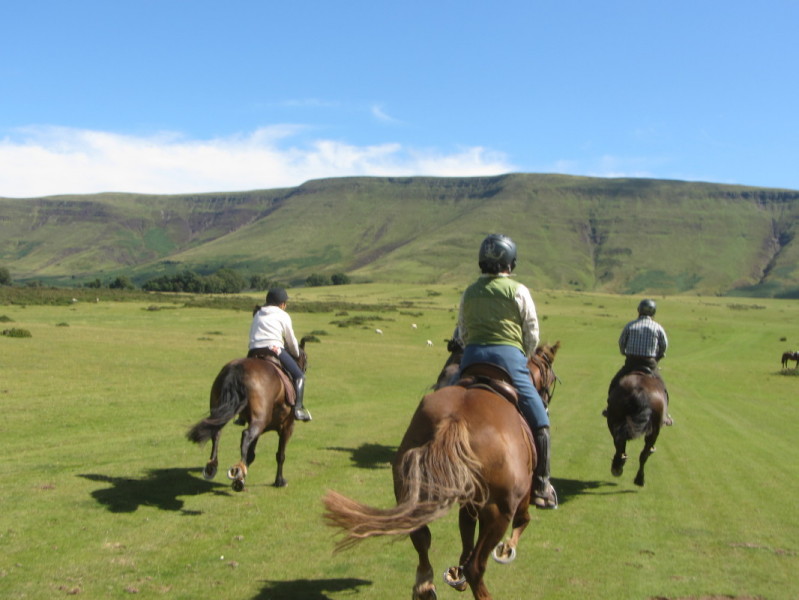 We offer two types of weekend trail-riding breaks – local trail-riding with both Friday and Saturday spent at Blaenau Bach, or a trail-riding 'Loop', with Saturday night spent away from base, and your luggage transported to your B&B or inn at either Hay-on-Wye or Llanthony. The locally-based 2 day/ 2 night weekend is £495 fully-inclusive, and the 2 day/1 night Loop is £480 fully-inclusive except for dinner. The Loop involves more miles and more challenging riding, so if in any doubt, call us up to discuss which one is suitable for you.
HORSE RIDING WEEKEND BASED AT BLAENAU – £495 FULLY INCLUSIVE.
Your weekend begins on Friday evening. After showing you your room and the house, you are welcome to wander up to the fields to see some of the horses, or take a walk or drive a mile into the village for a pre-dinner drink at the pub, or simply relax with a cup of tea or glass of wine. Welcome drinks are served at 7.30pm before dinner. In the winter, there are cosy log fires in the comfortable lounge, and in the summer, there is a south-facing patio where you can catch the last of the day's sun.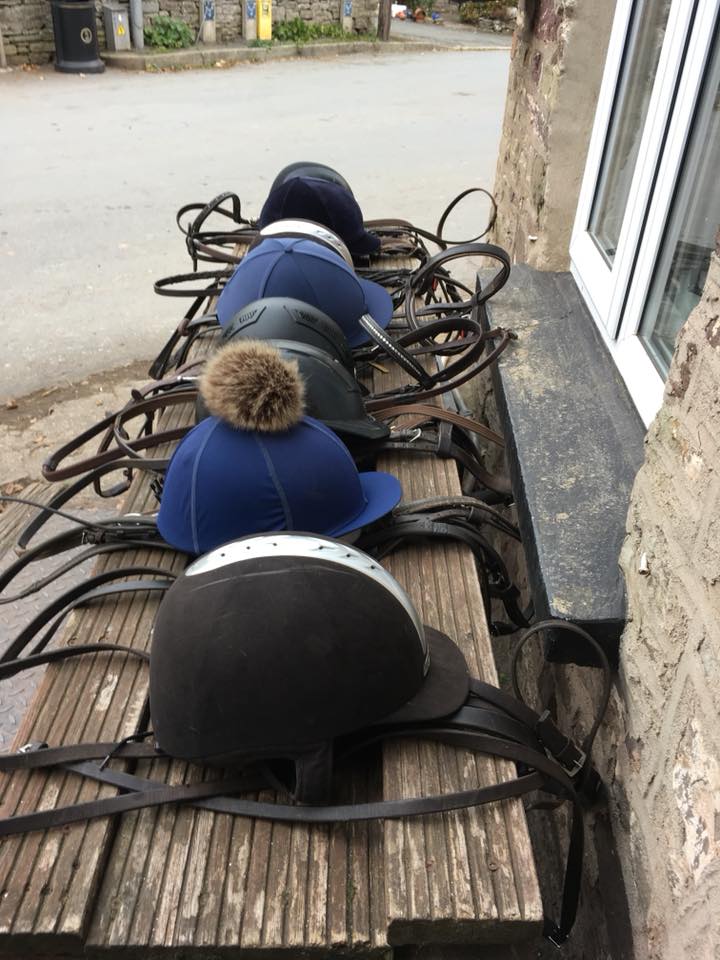 Dinner is a relaxed affair – you are welcome to bring your own beer or wine to enjoy, but there are always soft drinks and water on offer – just let us know what you'd like. Our food is home-cooked and simple, based on fresh local ingredients – we are really lucky to have a fabulous butcher, deli and grocers right in the village, and our eggs are from our own chickens or the farm next door! We can cater for vegetarians and any other dietary requirements if you let us know in advance. Puddings and coffee/ tea follow. After dinner, we ask you to fill out some forms and we talk about the horse riding to come. Then it's more relaxing around the fire, maybe a board game or two, or an early night with a good book!
After a hearty breakfast at 8.30am to set you up for the day (we offer full 'Welsh' breakfast, porridge, eggs any way you like, bacon sandwiches  – the choice is yours!), the action starts on the yard at 10am with catching the horses, grooming and tacking up, all of which we will instruct you in and help you at all times if you need it. Taking part in these activities mean that you develop a relationship with your horse before actually getting on, and it's also a good warm-up for you, meaning you'll be more relaxed and loose when in the saddle.

Either way, we are out on the trail by mid-morning. We are right in the Brecon Beacons National Park, so there are plenty of mountain trails. You can expect relaxed riding through woods, country lanes, old drover tracks and bridle-paths, with long canters and gallops across the nearby open commons of Pengenfford and Talgarth. If the weather is on our side, we can get high up into the mountains where you will earn some fantastic views, although the scenery is great from low-down too! Some of the trails can be twisty, turny, up and down, bumpy and stony, but our Welsh cobs are built for the terrain, and are incredibly sure-footed – you'll be amazed at what they can handle!
After around an hour and a half or two hours riding, we reach a cosy pub or friendly cafe along the way, tie up our horses, loosen girths and remove bridles, and horses and riders alike take a break over lunch. Lunch is usually sandwiches and chips or something similarly simple. Lunch is included in the price but riders will need to bring some change for drinks during lunch, although of course water is always available.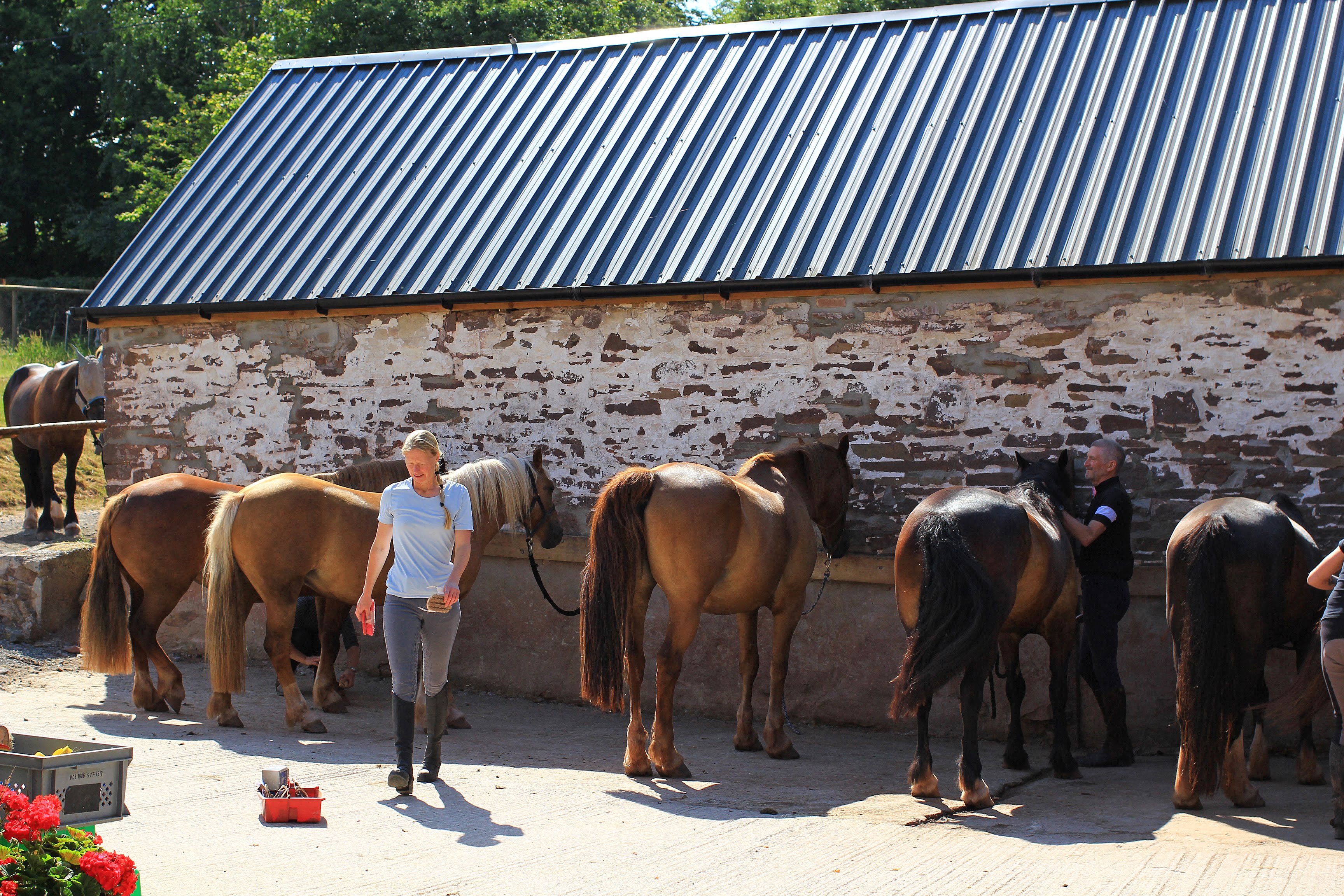 Back in the saddle around 2pm, we enjoy another couple of hours riding in the afternoon, before reaching the yard at 4pm. Together we untack, groom and feed the horses at the end of the day, and wipe over tack, before relaxing over a well earned cup of tea and cake or biscuits at around 5pm.
Total riding time each day is between three and four hours, which is usually plenty for most people. The ride is designed to be relaxed but adventurous, with a certain pace to it, rather than a 'trek' where horses ride nose to tail. Hopefully you'll feel like you are out riding with a group of friends, in control of your own horse. Riders should be confident and competent at walk, trot and canter to get the most out of our rides.
Sometimes we take the opportunity to jump small ditches and logs, but these are always optional so please don't worry, you won't be forced out of your comfort zone, although you may welcome a bit of a challenge!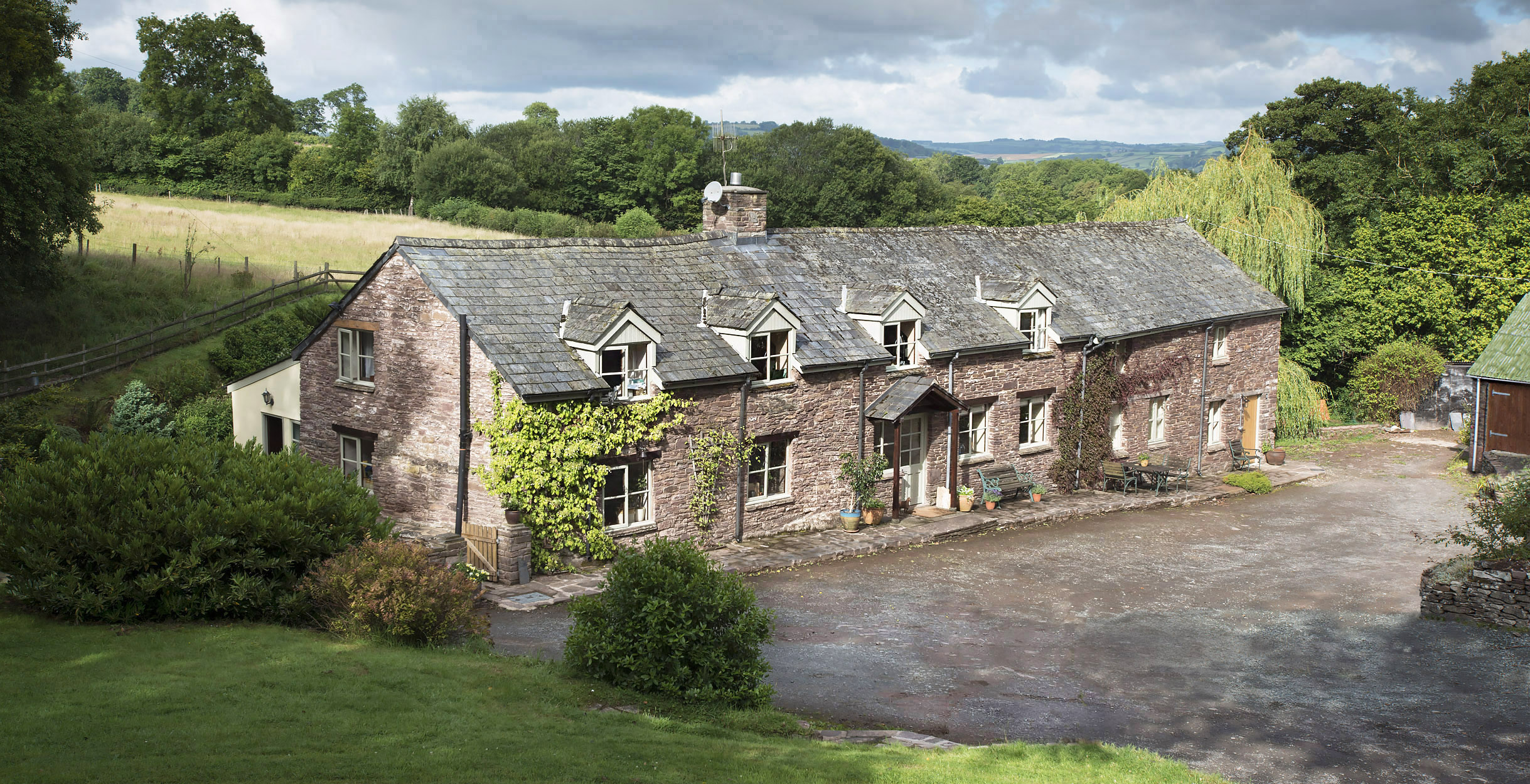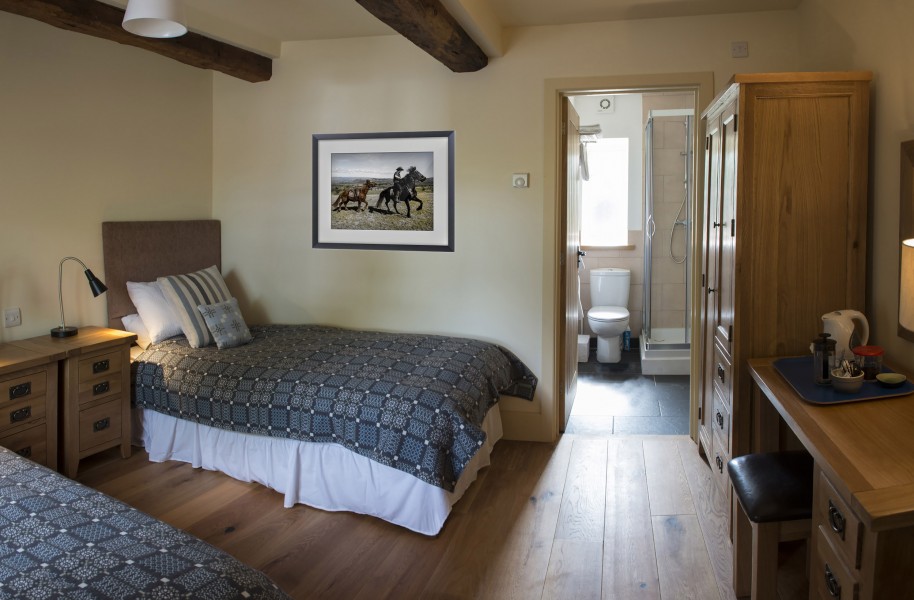 On Saturday evening, you'll enjoy another relaxed dinner together, and then perhaps a walk down to the pub through the fields, or a game of 'Horseopoloy' (which has been known to go into the small hours!) We also have plenty of DVDs if you fancy watching a film, or books that you are welcome to borrow. After a long day riding, many guests simply enjoy relaxing in front of the fire, sharing their stories and looking forward to the next day's riding.
After another slightly longer day's riding on Sunday, on a different route, you'll finish the weekend hopefully feeling a bit knackered but relaxed and happy. You will have undoubtably made new friends – with horses as well as humans! And hopefully you'll leave with plans to come back soon, perhaps for another weekend, perhaps for a longer more challenging trail!
TRAIL-RIDING LOOP WEEKEND TO LLANTHONY – THE 'LLANTHONY LOOP'  – £480 FULLY INCLUSIVE EXCEPT DINNER
We start at Blaenau at 9.45am on Saturday morning. We have a list of recommended B&Bs where you can stay over on Friday night, or why not combine your trip with an overnight stop in Abergavenny or Hay on Wye, both fantastic towns with lots of places to stay and eat.
You head out through the lanes to warm-up and get acquainted with your equine partner for the weekend. Before long you are climbing up Rhiw Trumau, the first of two big climbs today, with amazing views back over Mynydd Troed ('foot' mountain) and if you're lucky, Pen-y-Fan, the highest mountain in South Wales. We can enjoy long canters along the top before following the ancient Macnamara's Coach Path down to the Drovers' Bridge over the Gryne Fechan and down into Llanbedr for a well-earned stop at the Red Lion pub.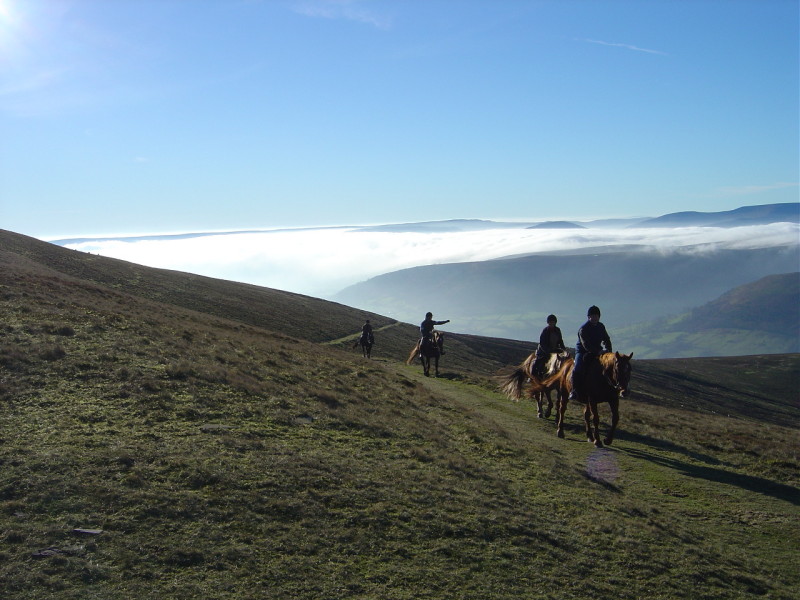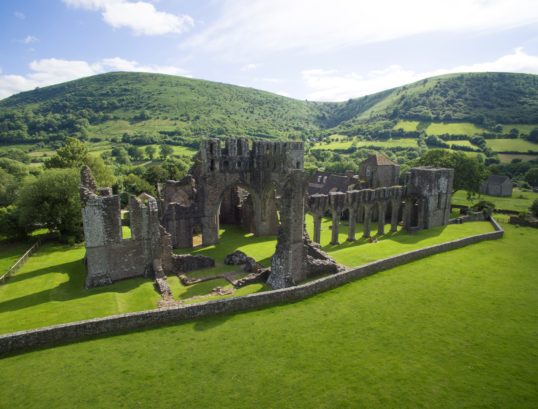 After lunch, we cross the river where the horses can drink, and then follow an old 'Holloway' through to a crossroads known as 'five ways' – then to our second climb up onto Hen Pant Ridge, with more long canters along the top. We come down 'Sunny Bank', through a forest, and up through the lanes until we reach the incredible Llanthony Abbey, your home for the night!
Historians and romantics alike can't failed to be moved by this beautiful 12th century Augustinian Abbey. Nestled in amongst the ruins is your inn, the Priory Hotel. It's a Grade 1 listed building, so none of the bedrooms have en-suite facilities, instead sharing two fully-fitted shower rooms on the first floor, and four of the rooms are reached by a spiral staircase! The rooms are comfortable but simple – it's really a stunning place to switch off and relax, with no wifi and no mobile phone signal!
Dinner is your choice from the menu in the cosy cellar pub – think home-cooked lasagne, casseroles and pies – hearty food that you'll welcome after your long day riding.
On a clear night, the star-gazing will make up for the lack of social media!
On Sunday, after breakfast, we head north up the Llanthony Valley, winding our way through lanes and holloways, before eventually turning west at Capel Y Ffin, and out onto the open hill.
We picnic in a secluded valley, next to a stream where the horses can drink. We then follow the valley up to the head of the Black Mountains Escarpment, where we can look north to the Radnor Hill, and the River Wye before us.
We ride along the escarpment with lots of opportunity for canters, before coming off the hill and following the Gryb path back to Blaenau.
Suitable for fit, intermediate and experienced riders. Day 1 is approx 20 miles, Day 2 approx 12-15 miles, depending on which exact route is followed – somewhere between 4 and 6 hours in the saddle, depending on weather and ground conditions.
HAY-ON-WYE LOOP – £480 PER PERSON not including dinner
Hay is another one of our Loop destinations.  Riders stay at Blaenau on Friday, before setting off through country lanes to the vast open commons of the Black Mountains, where you are likely to find yourself cantering alongside wild ponies and sheep. Arrive in Hay where your luggage has been delivered, and stay overnight at a friendly B&B or small inn, before returning back to Blaenau on a different route.
Suitable for intermediate and experienced riders. Approximately 4 hours in the saddle each day.
Please enquire for dates. We can also run either of our loops at any time for private groups of 4 or more people.
What is included in the price?
For a regular weekend based at Blaenau, you have two night's dinner, accommodation and breakfast, and two full days riding (3-4 hours total in the saddle) including lunch along the way (at a pub or cafe). It's basically all-inclusive except for your drinks during lunch at the pub, and alcoholic drinks in the evening.
What sort of riding ability do I need to have?
Our weekend trail rides are suitable for anyone who is competent and confident at walk, trot and canter. We are not suitable for complete beginners or very nervous novices who do not wish to canter, although we can sometimes organise private rides for people who might prefer a pace suited to their individual needs. Riders will be spending around 3-6 hours in the saddle each day, depending on the trail booked. We aim to suit riders to horses, so that more confident riders can enjoy a 'sparkier' horse, whereas others may prefer a 'safe pair of hands'. We get full details not just of your experience but of your confidence level when you arrive, which helps us match horses and riders.
What if it rains?
We ride in all weathers! We have long coats for riders to borrow if need be, but please do bring rain clothes if you have some.
Can we borrow hats/ boots/ jodhpurs?
Yes, we have a good selection of equipment for riders to borrow.
Do you cater for vegetarians/ vegans/ special diets?
Yes, we do, with please – but please let us know beforehand so that we can make a note, and remind us when you get here too!
Do you charge a single supplement?
We welcome plenty of single travellers and we charge a supplement only if you insist on a single room. The supplement which then guarantees you a single room is £50 per night. But there's no charge if you are able to be flexible, and we will give you a single if possible, or we may ask you to share a room with someone of the same gender. This usually works out just fine – it's a riding holiday, so there is plenty of time spent together as a group, and not so much time alone in your room!
How can I get to you?
By car – it's about 3 hours from London, 2 from Birmingham.
By train to Abergavenny Rail Station, where you will need to take an onward taxi which will cost approx £35 and take half an hour.
Or by coach to Chepstow, where we can arrange a transfer for you.
We can organise direct transfers from airports for groups, and can advise on reaching us from almost anywhere – please just ask.
What if I need to cancel or change my holiday?
Deposits are non-refundable, although we are always happy to move the deposit to another date or holiday.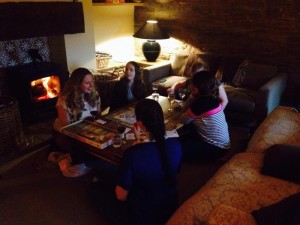 Our horses are fine Welsh cobs, not the heavy type, so we do have a strict weight limit of 14 stone/ 88 kilos. In certain cases, if for example you are tall and well-built, we can horse slightly heavier riders – please do let us know if you are over the limit so that we can make sure we can look after both you and our horses.
Please do have a look at our Facebook page where we upload plenty of pictures from the trails; they will give you a real idea of what our holidays are like! Just click on the little green F down the side of this page.
REGULAR WEEKEND DATES:
11- 13 March FULLY BOOKED
18-20 March
25- 27 March FULLY BOOKED
1-3 April
8- 10 April FULLY BOOKED
14-18 April – Easter weekend – please enquire
22- 24 April FULLY BOOKED
29- April – 2 May – LWE
6- 8 May FULLY BOOKED
13- 15 May
27 – 30 May LWE
12- 14 June FULLY BOOKED
24 – 26 June
8 -10 July
29 – 31 July
9- 11 Sept
7-9 October
21- 23 October
REGULAR WEEKEND COST £495 per person twin-share (£595 single), fully-inclusive 2 days/ 2 nights
LOOP DATES (not always a Sat-Sun, please check!)
26-27 March HAY LOOP
10-11 April LLANTHONY LOOP
13- 14 April HAY LOOP
15-16 May LLANTHONY LOOP
21- 22 May HAY LOOP
12- 13 June HAY LOOP
26- 27 June LLANTHONY LOOP
10- 11 July HAY LOOP
16- 17 July HAY LOOP
31 July – 1 Aug LLANTHONY LOOP
6-7 Aug HAY LOOP
14-15 HAY LOOP
3-4 Sept HAY LOOP
11 – 12 Sept LLANTHONY LOOP
9- 10 Oct HAY LOOP
LOOP COST £480 per person twin-share (£580 single), fully-inclusive except for dinner 2 days/ 1 night
PRIVATE GROUP WEEKEND AND LOOP RIDES ALSO AVAILABLE  ON DATES TO SUIT – PLEASE ENQUIRE. 
Hear from our Happy Riders!
"What an amazing weekend! It was home away from home – we were instantly made welcome in your beautiful house. The rooms are lovely and comfortable and the cosy sitting room with log burner was perfect for relaxing in after a long drive there. But the riding – WOW! The scenery is just stunning. Every corner we turned revealed a more breathtaking view. The horses were incredible – so sure footed with lots of character! Had a brilliant time cantering through sheep at the top of the mountains, hopping over ditches and jumping in a very inelegant way (me, not Erin!). Just need to start saving up for the next trip!"
"Just returned from my first Trans Wales experience weekend! Met some fab people – the Turner family, friends & other guests, ate amazing food cooked, slept in comfortable beds and, most importantly, had an awesome time riding! My pony for the weekend, Bevan, was gorgeous – just the right mixture of willingness but enough cheekiness to keep me on my toes! The riding and scenery were brilliant. I ache from head to toe but have the biggest grin on my face!"
"Had a fantastic weekend, beautiful horses, excellent food and hospitality. Thank you Paul and Emily and the rest of the team. If you want a exhilarating ride with forward going horses then this is for you. Our guide was excellent and knowledgeable about the area. Hope to return soon"
WEEKEND TRAILS
ABILITY:
Variable, depending on party
PRICE:
£500 (Fully Inclusive)
AVAILABLE DATES:
Available March – Nov
INCLUDED:
2 nights Full Board
2 Days Riding
WEEKEND DATES 2022 TBA