We start on the yard at 10am with grooming and tacking up our horses – don't worry, we will give you plenty of help. By mid-morning we are out on the trail. You can expect relaxed riding through woods, country lanes, old drover tracks and bridle-paths, with long canters and gallops across the nearby open commons of Pengenfford and Talgarth. If the weather is on our side, we can get high up into the mountains where you will earn some fantastic views, although the scenery is great from low-down too! Some of the trails can be twisty, turny, up and down, bumpy and stony, but our Welsh cobs are built for the terrain, and are incredibly sure-footed – you'll be amazed at what they can handle!
EXPERIENCE THE TRANSWALES TRAIL-RIDING MAGIC IN JUST ONE DAY!
Join us any time from March 1st – Nov 30th for an unforgettable day spent with our beautiful Welsh Sec D horses. The day includes lunch at a pub/ cafe or a hearty picnic, around three and a half to four hours fantastic local riding, and finishes with tea and cake back at the farm.
Individual riders always welcome.
Private rides for groups or individuals also possible – please enquire.
Suitable for riders competent and confident at canter, and under 14 stone in weight.
10am- 5pm (with approx 3.5 – 4 hrs in saddle total)
Call or text now to book on 01874 711500/ 07855 967399
Day ride: £120 per person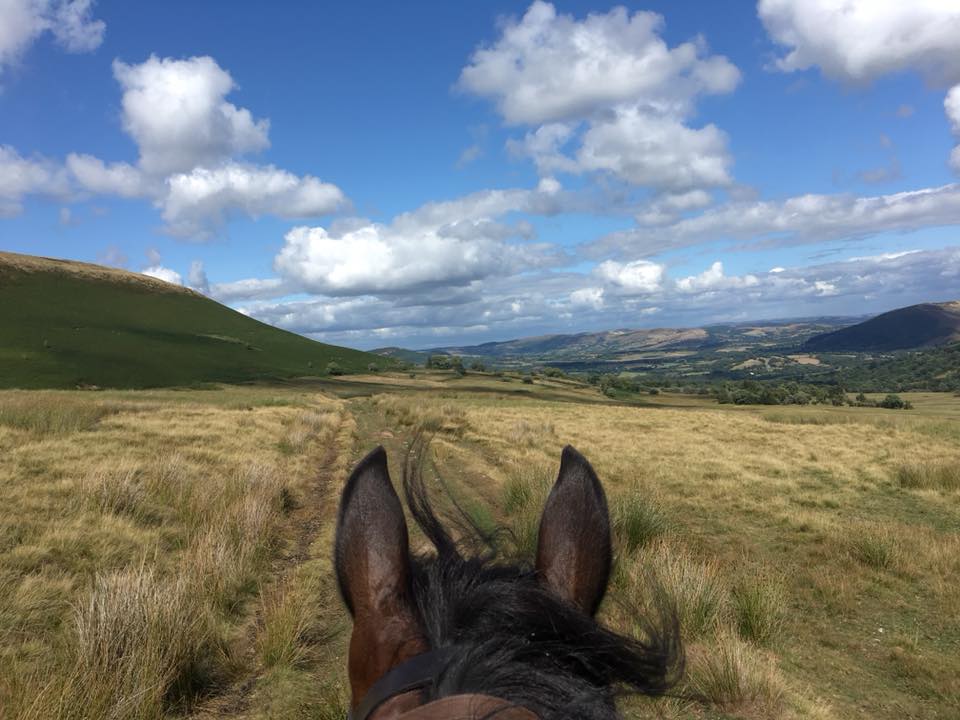 After around an hour and a half riding, we reach our lunch stop – usually a pub, sometimes a cafe or even a picnic if the weather is nice. We tie up our horses, loosen girths and remove bridles, and horses and riders alike take a break over lunch. Lunch is usually sandwiches and chips, or something similarly simple. Lunch is included in the price but riders will need to bring some change for drinks during lunch. Drinking water is always available.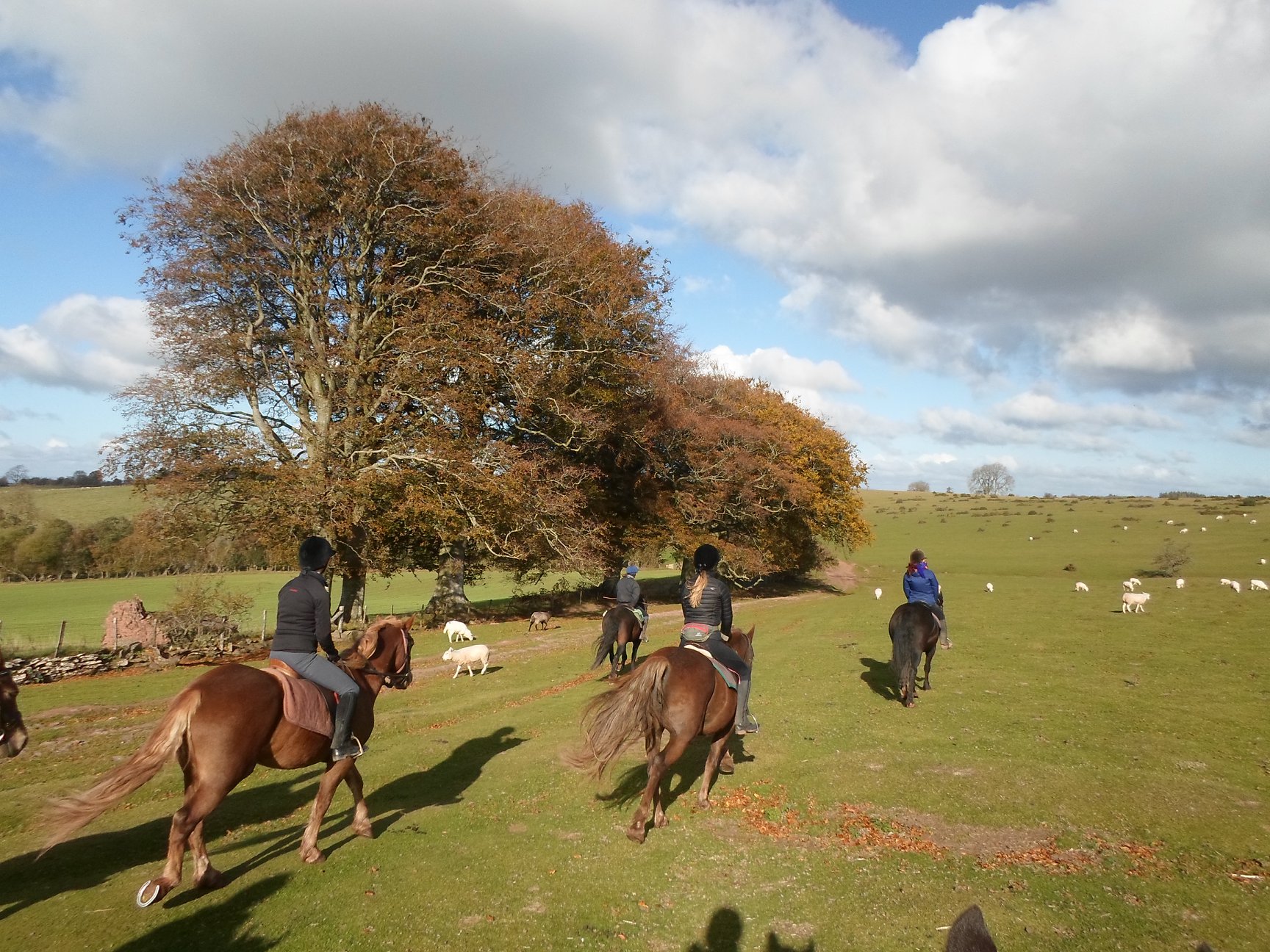 Back in the saddle around 2pm, we enjoy another couple of hours riding in the afternoon, before turning for home and reaching the yard at 4pm. Riders help untack, groom and feed their horses at the end of the day, and wipe over tack, before relaxing over a well earned cup of tea and slice of cake up at the farmhouse with the group, finishing the day at around 5pm.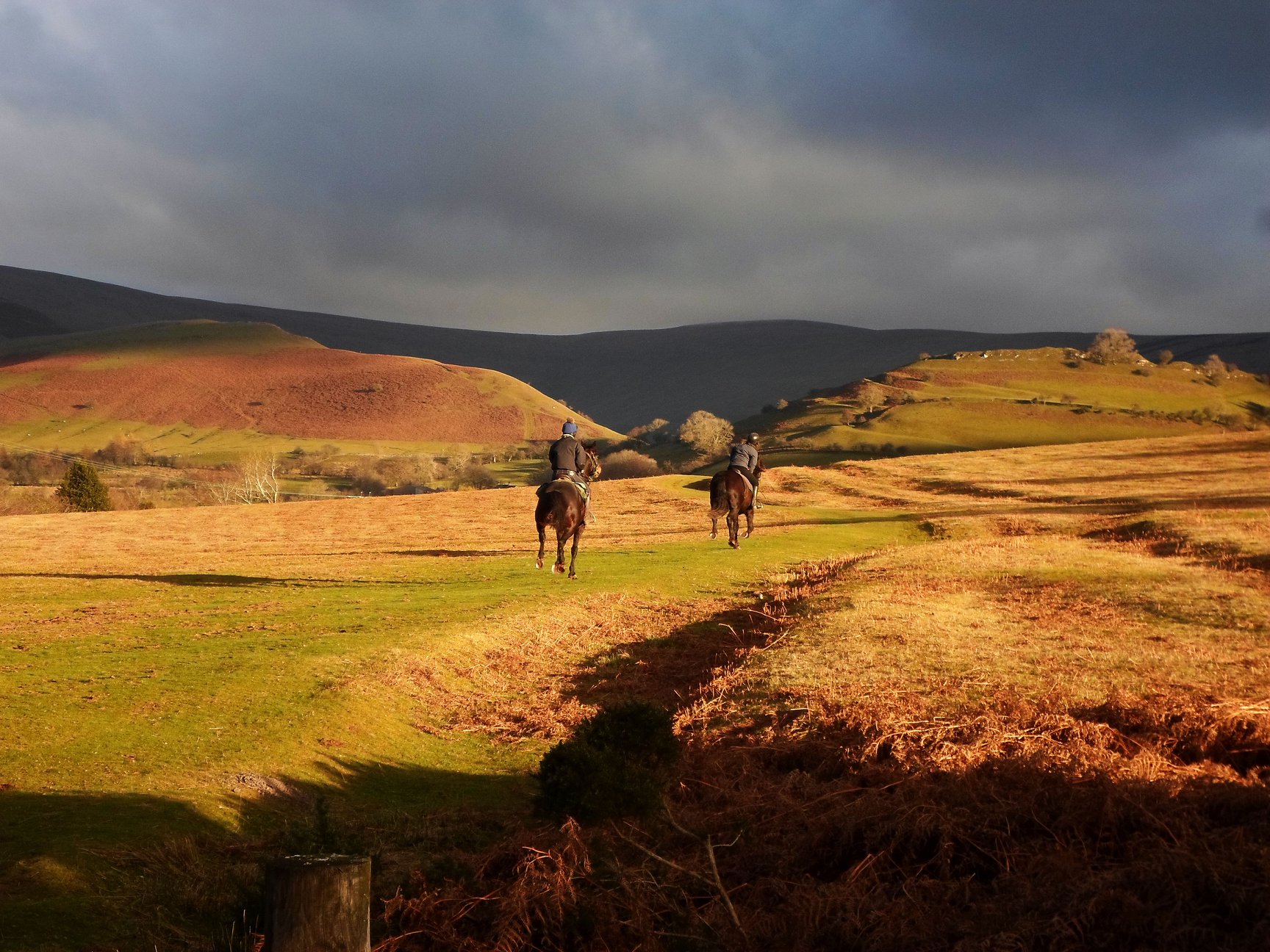 Total riding time is around 3.5 – 4 hours, which is usually plenty for most people. The ride is designed to be relaxed but adventurous, with a certain pace to it, rather than a 'trek' where horses ride nose to tail. Our aim is that you'll feel like you are out riding with a group of friends, in control of your own horse.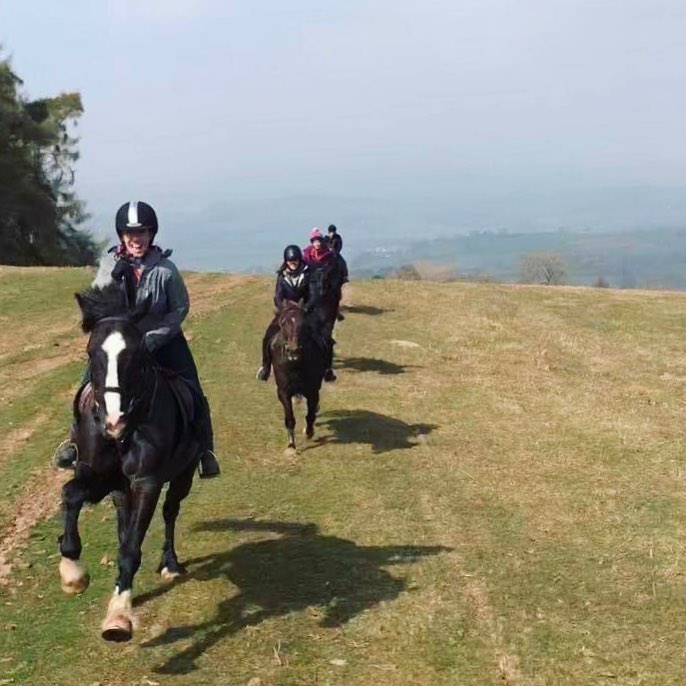 Sometimes we take the opportunity to jump small ditches and logs, but these are always optional! Please don't worry, you won't be forced out of your comfort zone – unless of course you welcome a bit of a challenge!
What do I need to bring?
Please come wearing jodhpurs, boots and bring your hat and body protector if you wish to wear one. We also have a selection of old but serviceable jodhpurs and hats for you to borrow if need be. We ride in all weather, so it never hurts to bring a long coat or rain-coat along.
Bring some change for a drink at the pub.
We have saddle bags if you wish to bring a small bottle of water or camera, but please note all possessions are taken on the ride at your own risk, and we will cannot backtrack to pick up dropped phones etc!
Can I come for less than a full day? 
Yes, on one of our private rides – we can take you for a half day (approx 2 hours in the saddle), at £50 per person, plus a one-off extra fee of £70 for the private guide for a half day.
Do you take children? 
We can take competent children from age 12, but they must have the stamina for the hours in the saddle and for the adult conversation! For family groups, it may be better to consider a private ride.
How do I book?
Use the form below, or call us on 01874 711500.
WHAT OUR HAPPY RIDERS SAY:
"Absolutely lovely and characterful horses, which were amazingly sure-footed; fantastic and extremely knowledgeable guide who took us at our own pace. Area beautiful and we were very lucky to have fine weather. Really loved the 'getting-to-know-your-horse' grooming session at the beginning of the day. Looking forward to coming again!"
"The quality of riding here is excellent and exhilarating – this is NOT for people who aren't experienced riders. The pace is fast and the horses have personalities and they are fit. "
"There is something very special about this place that makes you want to return year on year. The horses are strong, sure footed, so happy and well cared for. They look after you on all terrain to make sure you have the ride of your life."
"I've not come across horses like this before as they combine perfect manners with being very forward going in the nicest meaning of the words."
"Not for complete novices as the gallops are fast and exhilarating, but you can trust the ponies and sit back and enjoy the spectacular scenery! Wonderful also to take care of your own horse at the beginning and end of the day. We will be back next year!"