Our flagship trail-riding holiday, the Trans Wales Trail, offers unforgettable world-class horse-riding across the wild and beautiful mountains of Wales.
During this holiday spent riding almost the length and breadth of Wales on native horses uniquely bred for the job, you will experience some of the most historic, beautiful and undiscovered country in Britain.
Please note, this is a challenge for experienced riders only. We cross from the Black Mountains to the Irish sea, over several mountain ranges, covering great distances, mostly off-road, and riders must be fit, have good stamina, and be comfortable riding at speed.
The route passes through four mountain ranges – The Black Mountains, Mynydd Epynt, the Elan Valley and over Plynlimon before a final gallop on the beach near Aberystwyth.
The route uses mostly forgotten bridle-ways, some open moorland crossings and several trails over private land. Luckily your guide Paul Turner has been riding these trails for over 20 years!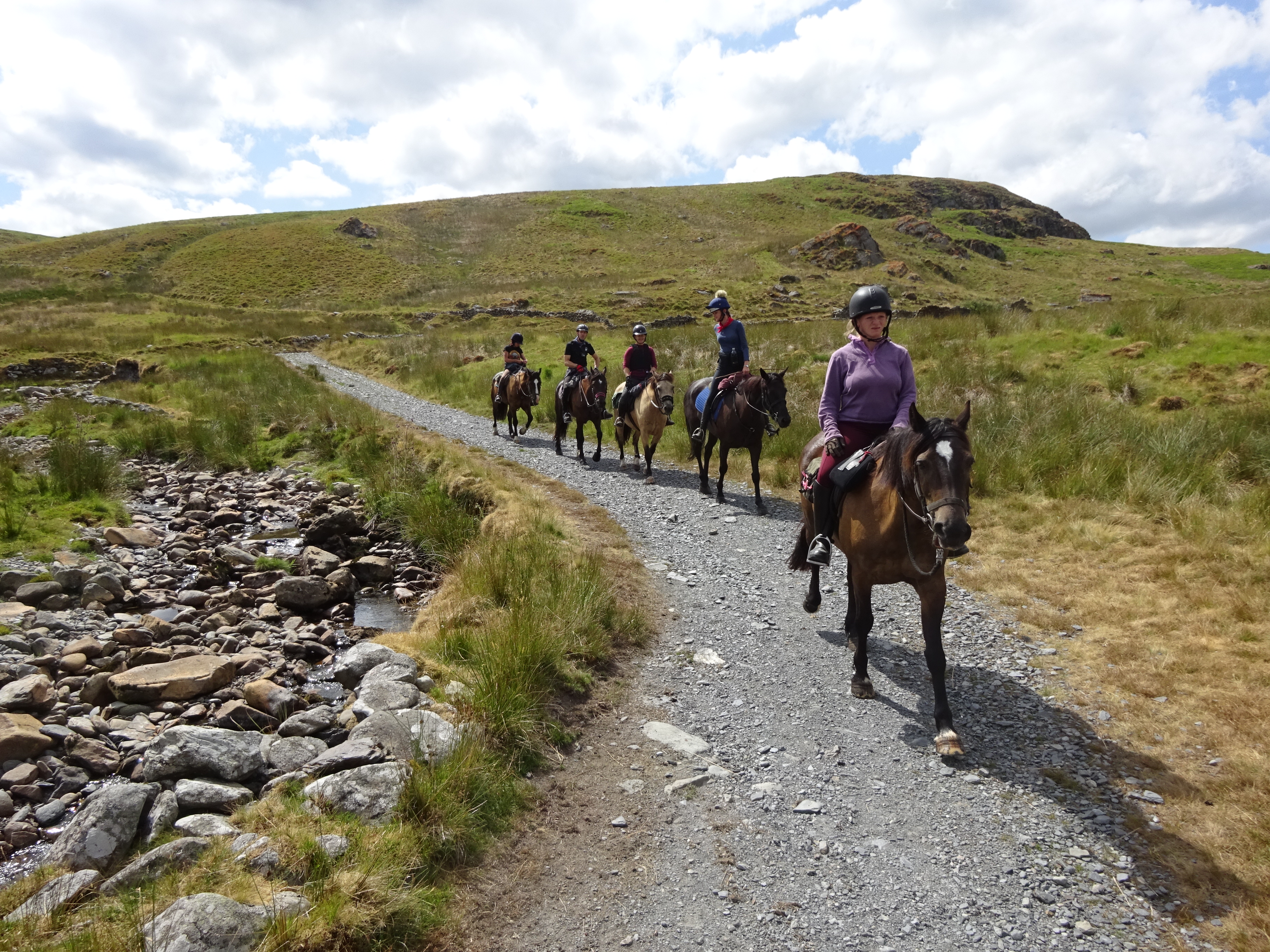 ---
Day 1: Guests arrive after 5pm, settle in, meet the horses and get to know one another over a home-cooked dinner.
Day 2: We start with a local trail of around 12 miles, so that riders can get a feel for our horses and riding style.
We stop for lunch in a local pub, and afterwards head up onto the mountain where the hill-riding really begins, and we earn spectacular views of Llangorse lake and the Brecon Beacons.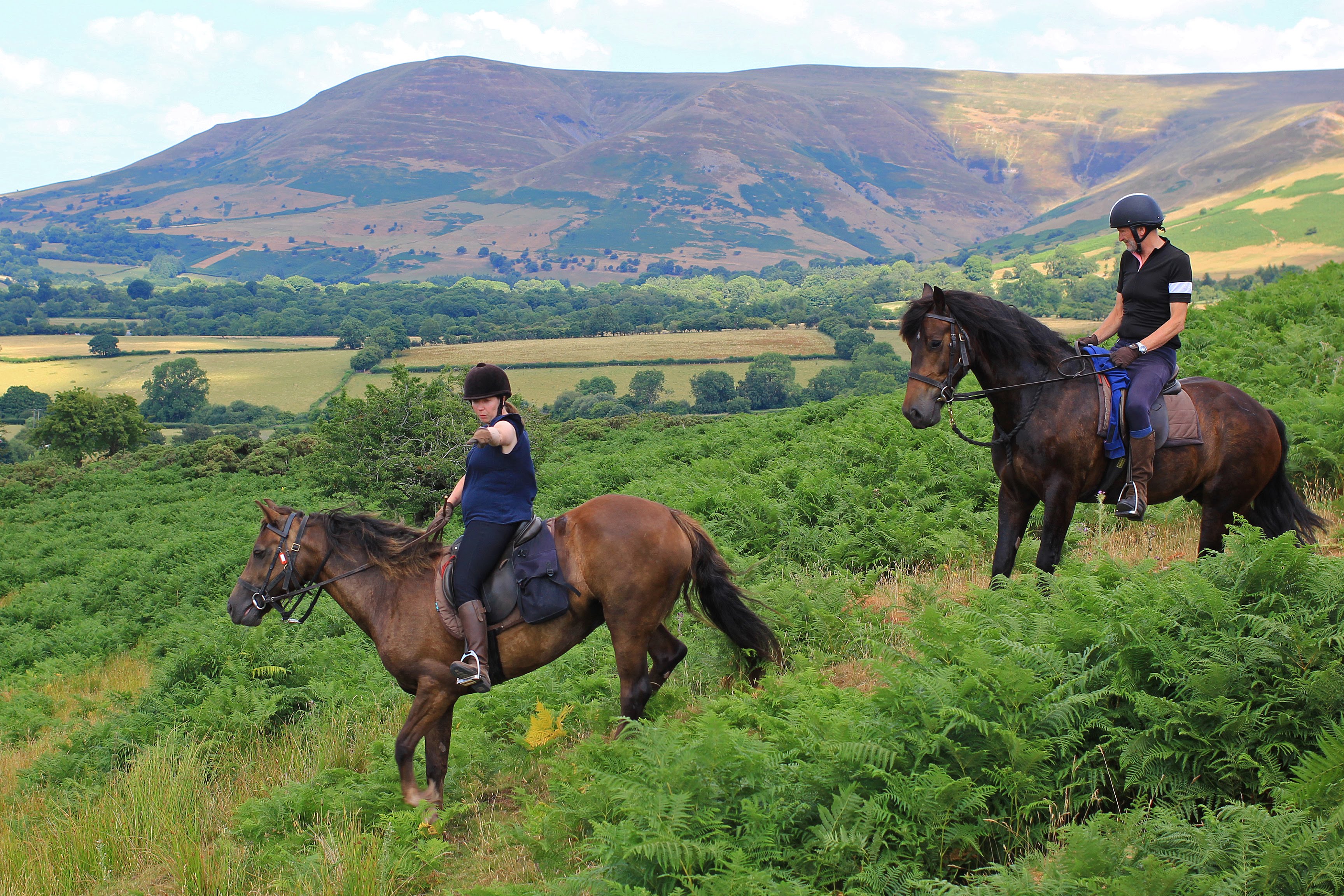 We head back to Blaenau Farm for a well earned dinner. Guests are free to visit the local pub (1 mile away, bring/ borrow a torch for the way home!) if they wish.
Day 3: We set off in the direction of the coast. 8 miles of rolling farming country followed by 12 miles of fast open moors – without doubt a horseman's paradise.
We stop at two inns along the way for refreshments before arriving at the comfortable 16th century Caer Beris Manor Country Hotel in Builth Wells on the River Wye for the night.
Day 4: We keep west of the river Wye, and take lunch at a 13th Century pub, (the oldest inn in Powys).
The night is spent in a comfortable hotel in Rhayader, where one can normally do some souvenir hunting!
Day 5: Today we cross the Lakeland of Wales – following the Elan Valley for 15 miles before stopping for a picnic lunch.
The final five miles are through a beautiful tall pine forest. The night stop is at the Blue Bell Inn, where we can relax with a drink, hot bath and a good dinner.
Day 6 is a marathon day – 26 miles to the sea, crossing mountains with no trail to follow. Luckily your guide has been riding this route for over 20 years and knows his way!
After a refreshing paddle in the waves and a gallop on the firm sand, you and the horses will be glad of the 90 mile lift home, stopping en-route for dinner at the Blue Bell Inn.
Day 7: Bid farewell to your horse and fellow riders. Guests leave after breakfast.
---
Price: £1400 fully-inclusive.
What's included: six nights accommodation, all meals, five full days trail riding, and all ride servicing – your luggage is driven on to each overnight stop meaning you don't have to ride with bulky saddlebags.
What's not included: drinks at dinner.
Add: a further 2 days/ 2 night fully-inclusive weekend. Friday becomes a rest day to visit nearby Hay-on-Wye with its fantastic range of  bookshops, vintage shops and cafes, or Brecon, or other options – then ride Saturday and Sunday on our local trails – for just £280 when added to a longer trail.
Please do have a look at our Facebook page where we upload plenty of pictures from each trail that we complete as the season goes on – they will give you a real idea of what our holidays are like! Just click on the little green F down the side of this page.