CHARGE OF THE UNBROKEN YOUNGSTERS
Last Thursday 10th of April I popped over with Marie & Anna (and baby Della) to see how the youngsters are all growing over at Pontrilas and worm them before they move up to their summer grazing – just like in Heidi… There are 18 babies ranging from 2-5 years old and they are all semi-wild projects on the to-do list! Having done battle with the 18 feral youngsters, with two girls and a baby to help, I decided to fetch two of the most sensible and promising horses back to the farm to be broken.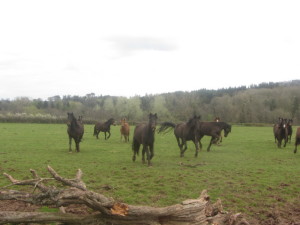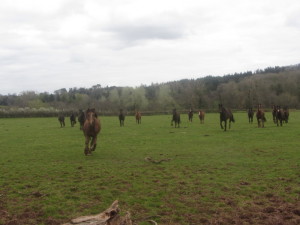 I'm not sure exactly what their names are, but I think one deserves the name Black Beauty so that's her stable name for now. The other one looks like Gwen. Both are now stabled at Cwmfforest and being handled daily before I find the time and bravery to commence lunging them. Watch this space for an update on their progress.