We like to pride ourselves on standing out from the crowd.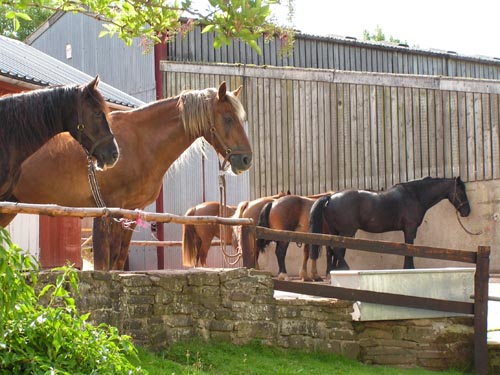 Riders often leave here telling us they've never experienced riding like it on any other horse riding holiday.
If your experience of trekking up until now has been to get your horse in line and stay there nose-to-tail, you'll be pleasantly surprised at how different our approach is. Our horses are forward-going, well schooled and sociable.
At Transwales Horseback Trails, riders are encouraged to build a relationship with their horse, and we'll help you catch, groom and tack up at the beginning of the day.
Our horses are beautiful, fine, fit Welsh cobs who will surprise you with their sureness of foot and superb balance. Compact, intelligent and strong, they are ideally suited to the hills and mountains that surround us. The terrain is varied and includes open moor-land, thick forests, picturesque country lanes and narrow mountain ridges.
During your holiday here, there is plenty of opportunity for fast canters and gallops, and even the chance to jump logs and ditches – all optional of course!