How experienced do I need to be?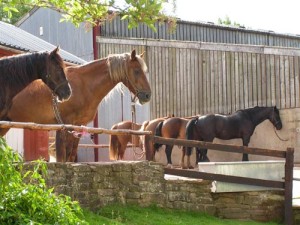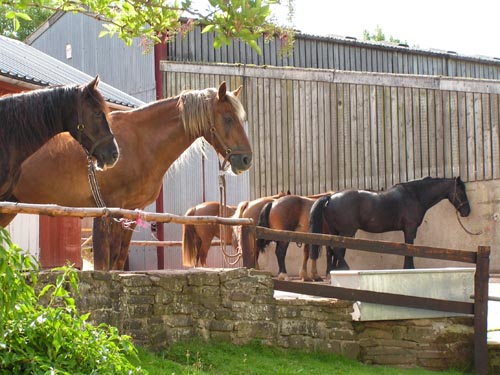 Our trails and horses are suitable for riders who are confident and competent at canter, over uneven ground, on forward-going horses.
If you've only ridden in a school before, it would be worthwhile taking a hack or two at your local riding school, and see how you get on. It is not necessary to have lots of technical knowledge, but we do expect riders to have a decent level of fitness, as our trails require between 3 -5 hours on horseback.
If you've ridden as a child, but don't have much recent experience, we class you as 'rusty experienced' – you'll be absolutely fine, if a bit sore the next day!
Outdoor riding is obviously very different from that inside a riding arena, and we are certainly not fussy about technique and technical knowledge. Our horses are incredibly sure-footed, and the most important thing is to stay balanced. We are always on hand to help you out with your trail riding technique, and it's a relaxed atmosphere – we believe that our riders should have fun while staying safe, and we'll do our best to meet that goal!
We are also able to match horses to riders so that everyone gets the right level of challenge and pace they want. We have confidence-giving horses for those that need it, as well as young, sparkier horses for those riders fancying a more challenging ride. We'll get full details of your experience, confidence levels and expectations when you arrive.
Our Horses
We have a riding herd of about 30 Welsh cobs and crosses, mainly Section Ds, the majority of which have been bred here on the farm. Horses are selected for temperament and character. Size ranges from 14 to 16 hands.
We breed and break our own replacement stock, and every year several youngsters join the riding stock. Our horses are very reliable, friendly and sure-footed, and guaranteed to give you an excellent ride. Meet the Herd
Your Guide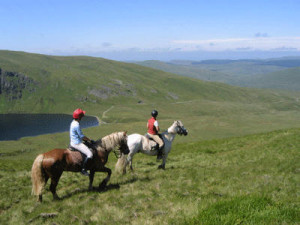 Paul Turner has been riding around these mountains since he was 4 years old, first accompanying his father Mike on the routes, and eventually leading rides as soon as he was allowed!
His unique knowledge of the local area, routes, ground condition and weather patterns enable him to choose the best way to go each day.
We also have a small team of other leaders, all of whom have been trained up personally by Paul, and are briefed thoroughly by him each morning before they set out with their group.
Tack: Our saddles are the very comfortable endurance type.
Instruction
If you've never handled a horse from the ground before, you'll get a crash course in general horsemanship, from catching your horse, grooming them and tacking up.
By the time you mount your horse, you'll be firm friends! Having ensured you are safely mounted and well suited to your equine partner, we head for the hills, where if required we can help you to improve your trail riding technique.
Clothing
Warm, comfortable and windproof clothing will help you to enjoy your trail riding experience. Jodhpurs or breeches are a must – no jeans please! Hard hats are essential, as are a long pair of boots, or short boots with half chaps.
We have plenty of jodhpurs, hats and boots for you to borrow if you don't have your own. If you have a long raincoat, that will come in useful if it rains as it protects our saddles as well as you – but again we have some to lend you.
Don't forget casual wear for the evenings, and a pair of house shoes/ slippers will come in useful.
How can I book a riding holiday with TWT?
Email us your dates along with your full name, contact telephone number, and details of your height, weight and riding experience. We'll confirm the dates with you and pencil you in, and will then ask for a deposit. The deposit confirms your place, and the balance is then due a month before your holiday.
How can I pay my deposit? And how much is it?
Weekends £100. Hay Triangle £150. BME £200. NPT £300. TWT £400.
By cheque
made payable to 'Transwales Trails Ltd' – please write your name and date of holiday on the back, and send it to us at Baenau Bach, Penbont Road, Talgarth, Brecon, Powys LD3 0EG.
By card
call us up on 01874 711 500 and tell us your card details.
By bank transfer
let us know if you need our bank details. Please add £7 if your bank is not in the UK as this is what they add!
When is my balance due?
Please pay your balance one month before your holiday. We generally don't send out a reminder, so please don't forget!
What time should we arrive for our holiday?
Guests are welcome to arrive any time after 5pm. Earlier by arrangement although your room might not be ready until later. Dinner is usually around 8pm, so please give us a call if you are going to be later than that, and we will keep some dinner by for you if required.
What should we bring?
Jodhpurs, riding hat and riding boots (plus half-chaps if you use them). Riding gloves can be useful if it is cold. Layers to keep warm/ stay cool depending on the weather. Some sort of jacket. Comfortable clothes for the evening. House shoes/ slippers if you'd like (no muddy boots allowed in the house!) Back protector if you wear one (please note we do not have these available to borrow). Wine or beer to enjoy with dinner if you wish to drink (spring water, squash etc, freely available)
Can we borrow hats/ boots/ jodhpurs?
Yes, we have a good selection of old but serviceable equipment for riders to borrow.
What if it rains?
We ride in all weathers! We have long waterproof coats to protect you and our saddles for you to borrow, but if you have your own then do bring them along.
What is not included in the price?
Day Rides & Weekends & all longer trails- just bring a handful of change for your drink at the pub.
During Black Mountain Explorer weeks, on one night (usually Thursday) , we close the kitchen here to give us a break from the cooker, and ask guests to eat at a nearby pub – there's an excellent one a mile away at the bottom of the lane, or several other options a short drive away.  You are also welcome to bring your own wine/ beer along to enjoy during the evening. There's a Co-op in the village open until 10pm if you need a late night top-up of supplies!
Do you cater for vegetarians/ vegans/ special diets?
Yes, we do. Please let us know so that we can make a note, and remind us when you get here too!
What is the best way to get to you?
By car – it's about 3 hours from London, 2 from Birmingham. By train to Abergavenny Rail Station. Or by coach to Chepstow, where we can arrange a transfer for you.
See our Getting Here Page for more information
What if I need to cancel or change my holiday?
Deposits are non-refundable, although we are always happy to move the deposit to another date or holiday. Full booking terms and conditions are available here